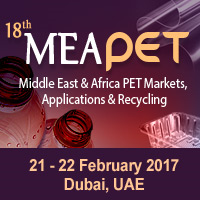 2017 Dubai PET Packaging Series aims to evaluate opportunities in fast-growing African and Middle east economies.
Dubai, UAE (PRWEB) January 09, 2017
CMT's 2017 Dubai PET Packaging Series hones in on opportunities in fast-growing African and Middle east economies. Opening the sessions with topic on 'Outlook for 2017 - Can Demand for PET Resin Grow Profitably' is David Swift, Managing Director of PCI Wood Mackenzie. He addresses some of the burgeoning concerns like changes in the global market balance for PET, regional industry outlook for 2017, inter-regional trade and duty changes as well as global trends in PET pricing, margins, sustainability and recycling.
Among notable speakers at the summit are three brand owners with stakes in the MEA PET market – Mutalo Group presents its expansion and distributions plans in African Beverage and Personal Care Market while Nigeria Breweries reveals details of its PET Packaging Plan as it prepares to package three of its beer brands in PET soon. Saudi Arabia's leading dairy brand – Almarai shares insights on the 'Yoghurt and Dessert Packaging Trends and Demand for PET' in the country.
Another top highlight is a Panel Discussion on 'Strategy towards Sustainable Brand PET Packaging' led by David Swift as moderator, and Rahul Avasthi, CEO Intergulf (Empol) plus Nicola Ayyash, Packaging & Commercialization Manager, The Coca-Cola Company as panelists. The panel evaluates processing challenges and expectations, concerns over sustainable packaging, PET demand in the sector and the new trends and design requirements from preform to filling technology.
Also speaking is Ankit Kedia, Director of Manjushree Technopack with topic on 'Trends and Outlook of PET Packaging in Pharma Application' highlighting the key aspects of packaging regulations, pharma formulation for PET and the demand and growth rate for packing medicines in PET. Presenting on Market Drivers and Advancements in Sheet and Film Food Packaging is Ayhan Kurt Kuruc, General Manager, Farmamak.
Other vital sessions are:

Reliance Industries on Indian PET Market Trends and Demand Outlook
Sacmi - Combining Performance with Flexibility: The New IPS Injection Preform System
Emirates NBD - Economic Outlook for Middle East and North Africa (MENA) amid Global Uncertainty
Husky Injection Molding Systems - Multi-Layer Barrier Technology is Enabling Growth in PET Packaging
Mossi & Ghisolfi International – Latest Innovation in PET Resins
Omniya Recycling - First in Kuwait and the Gulf - Compact Industrial Scale Recycling Facility
Organized by Centre for Management Technology (CMT), the event will be joined by SACMI as Associate Sponsor.
For more information and detailed agenda, log on to 18th MEAPET website.
Alternatively, contact Ms. Hafizah Adam at +65 6346 9218.