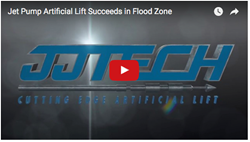 Shreveport, Louisiana (PRWEB) January 18, 2017
JJ Tech has published a video demonstrating how the JJ Tech Jet Pump System was installed in a Mississippi River flood zone and continued to operate successfully when the well site was flooded.
The project is located in an area in Louisiana where floodwaters can reach as high as 62 feet. Very often well operators in the area are forced to shut-in wells because well or pump maintenance requires a boat to access the site. Using Global Tubing's offshore, externally coated, coiled line pipe and the JJ Tech's jet pump artificial lift system, the well was able to run uninterrupted during record flood waters. The wellhead was over 8600 feet from the tank battery so the flowline and power fluid lines were run together. The total pipeline length was 17,230 feet. The contractor, Oilstone Energy Services, performed a pull-through in six casing conduits at the levee crossing in less than four hours. The project took five days from mobilization to de-mobilization.
The JJ Tech Jet Pump System was a prime candidate for flood zone installation because of its low maintenance, low downtime, and low environmental impact. Service needs are reduced because there are no moving parts down hole. Most of the wells in this area of Louisiana cannot produce in floodwaters. This well is not one of them. View the video and full case study at http://j-jtech.com/case-study-flood-zone/.
About JJ Tech:
JJ Tech is a US based, world-wide supplier of cutting edge artificial lift systems to the oil and gas industry. The artificial lift company currently has eight international and US distributors and hundreds of hydraulic jet pumps placed throughout the world. Please visit j-jtech.com for more information and to register to receive future press releases by e-mail.