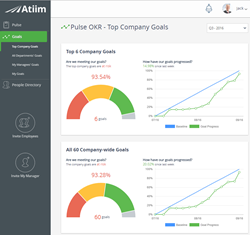 "Atiim is a great product and helps me and our executives clearly understand what goals we all need to focus on and stay aligned. This helps us execute more effectively and efficiently as a team," said Michael Monteiro, CEO at Buildium
Boston, Massachusetts (PRWEB) January 09, 2017
Atiim Inc. (pronounced: "A-team"), the innovative enterprise goals and performance management SaaS solution, today has released Pulse OKR, it's latest innovation, and another industry-first, integrating enterprise goals management with ongoing performance management in a single, unified platform.
Atiim provides a platform for CEOs, managers at all levels, and employees, to align efforts to the top corporate objectives that matter most; and to track progress and manage goals on an ongoing basis through lite Pulse check-ins. This allows for two-way closed-loop feedback, effectively integrating goals metrics and qualitative pulse questions to add greater depth and context to the overall progress made by the employee.
"Atiim is a great product that helps me and our executives clearly understand what goals we all need to focus on and stay aligned. This helps us execute more effectively and efficiently as a team," said Michael Monteiro, CEO at Buildium, a provider of property management software.
The new innovative Pulse OKR product is based on Atiim's True Goal Hierarchy TM technology architecture that allows not only every employee but also departments and teams to be assigned shared goals. Individuals can align their goals with these shared or top organizational goals so that everyone can see how their work is connected to, and impacting, team, department and company progress.
According to research published in Harvard Business Review (HBR) by Robert S. Kaplan and David P. Norton, 95% of a company's employees are unaware of, or do not understand, its strategy. And other studies recently published in HBR found that nearly 70% of managers are uncomfortable communicating with employees in general while approximately 57% of employees complain that their managers don't give clear directions.
By uniquely addressing these key challenges simultaneously, Atiim has created a breakthrough SaaS solution that improves company-wide alignment. Pulse OKR brings clarity to the objectives everyone must focus on, improves internal communication, enables data-driven management of employees, and therefore improves performance and results.
"Setting OKR goals is easy, but attaining then company-wide is very hard. With Pulse OKR, Atiim reinvents modern performance management by unifying and integrating a 2-in-1 solution that combines goals with ongoing feedback, which better aligns everyone at the company to drive far better results," said Zorian Rotenberg, Founder and CEO at Atiim. "In doing so, we provide companies with a new technology for managing their people, making it easy to drive better progress and also to intercept issues before they turn into roadblocks. We help keep everyone executing effectively and efficiently towards the company's top goals."
Atiim's solution makes managers at all levels more effective. The solution also measures individual engagement anonymously so that managers have insight into team and overall organizational engagement.
For a live demo and more information about Atiim, visit here.
About Atiim Software
Atiim is an innovative 2-in-1 unified and integrated ongoing performance management and OKR (Objectives and Key Results) goals management platform. To address today's challenges that organizations of all sizes face with setting clear goals, aligning teams, and improving performance and results, Atiim is pioneering a new level of Performance Acceleration. Atiim's breakthrough SaaS solution enables growing companies to maximize performance and business results – it is an innovative and integrated solution for setting business objectives, aligning teams to corporate goals, having regular two-way employee feedback, measuring employee engagement, and tracking people analytics. Learn more about Atiim Software at http://www.atiim.com.
Web Links: