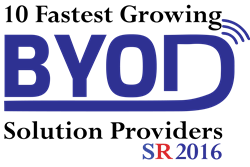 With so many vendors and accompanying technologies inundating enterprises with IT complexity, 'simplify and secure' is the call of the day.
Reston, VA (PRWEB) January 05, 2017
SyncDog, Inc., the leading ISV for mobile application containerization, today announced it has been named One of the 10 Fastest Growing BYOD Vendors of 2016 by Silicon Review magazine. Silicon Review is an online and print community that identifies innovative companies, entrepreneurs, and technologies for feature in their magazine. Top-level executives look to this publication to share their contemporary thoughts, ideas, and technology to benefit the enterprise start-up ecosystem and give business leaders a better understanding of technology's role in achieving business goals.
The award arrives on the heels of a banner year for SyncDog, which has amassed an extensive collection of accolades over 2016, including: 50 Most Creative CEOs to Watch by Insights Success Magazine, 20 of the Most Promising Enterprise Mobility Solution Providers by CIOReview, September Entrepreneur of the Month by Silicon Review, and more. Silicon Review's article and interview with SyncDog CEO Jonas Gyllensvaan provides its basis for granting the award, as well as a deep dive into SyncDog's customer-centric approach to designing the most flexible mobile and IoT (Internet of Things) security solutions for enterprises requiring secure BYOD mobile workflows. To read the full write-up, click here. To see the full list of award recipients, click here.
"With so many vendors and accompanying technologies inundating enterprises with IT complexity, 'simplify and secure' is the call of the day," said Jonas Gyllensvaan, president and CEO of SyncDog. "We designed SentinelSecure™ to answer this call while securing enterprise mobile collaboration from the growing risk of mobile cyber threat, and this approach has allowed SyncDog to thrive. We're proud to have been recognized and featured in Silicon Review's recent publication."
The SentinelSecure™ containerized workspace provides a secure application platform that encrypts and transports data between the enterprise and secure, "sandboxed" applications running on employees' mobile devices. The workspace protects client enterprise networks with a secure, partitioned FIPS 140-2 certified* container on both iOS and Android devices, and secures data both at rest and in transit using AES 256-bit encryption.
The SentinelSecure™ container has been designed to address four main workflows for users accessing enterprise file stores and applications: Secure Communications, File Management, Secure Internet/Intranet Access, and Secure Location-based Services. A full suite of mobile-enabled productivity applications is available to support these workflows, including SharePoint, Enterprise Chat, Geo-location Services, DropBox, a Personal Information Management (PIM) suite, Office Suite, Office 365, Secure Mobile App Management & Development, File Sync, Gmail, and many more. A full list of supported applications can be found here.
To download the SentinelSecure™ datasheet, click here.
SyncDog's Partner Ecosystem
SyncDog has been actively building its partner ecosystem over the last year, securing certified APIs for the option to integrate SentinelSecure™ with a broad network of EMM providers. This flexibility allows customers the choice to deploy SentinelSecure™ as a standalone container or as a complementary layer of security to existing EMM investments. Certified SentinelSecure™ integrations include:

MobileIron
Snow Software
Notify Technology, Inc.
SentinelSecure™ also has field integration with most name-brand EMM and MDM solutions.
About Silicon Review
The Silicon Review is the world's most trusted online and print community for business & technology professionals. Our community members include thought-provoking CEOs, CIOs, CTOs, IT VPs and managers, along with millions of diverse IT professionals.
 
The Silicon Review encompasses nine technology and vertical communities: Software, IT Services, Cloud, Mobile, Big Data, Security, Telecommunications, Hot Start-ups and The Best Companies to work for. Each community leader is a proven subject matter expert who collaborates with industry gurus, technology managers, researchers, top technology journalists, consultants and industry analysts. Our team strictly focuses on accurate and timely delivery of informative articles that enhances spirited discussions in the future.
For more information, visit thesiliconreview.com
About SyncDog, Inc.
SyncDog is the leading independent software vendor (ISV) for building secure infrastructure frameworks that protect enterprise networks from cyber breach from mobile computing sources. The SentinelSecure™ product line for application containerization and IoT (Internet of Things) module monitoring provides the industry's most proactive approach to securing enterprise mobile collaboration.
The SentinelSecure™ data security solution delivers military-grade (FIPS 140-2 certified,* AES 256-bit) secure mobile device partitions or "containers" that can secure emails/contacts, calendar items, IM apps, Internet browsers, mobile file stores and other business apps provisioned on personal devices to be used in a BYOD or COPE (corporate owned personally enabled) setting.
For more information on SyncDog products please visit syncdog.com/solutions/
*NIST Certification #2687 | Link