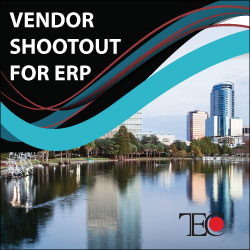 "The event is the best way to get a neutral presentation of the products in a concise format. For a company like us that is early in the process of deciding the shortlist, it was invaluable."—Controller, Paperboard Manufacturer
Montreal, Canada (PRWEB) January 06, 2017
Taking place February 28-March 1, 2017 in Orlando, Florida, the Vendor Shootout™ for ERP is a highly anticipated event geared towards decision makers and teams looking for enterprise resource planning (ERP) software for manufacturing and/or distribution companies.
The ERP software selection process can be a lengthy one—the Vendor Shootout for ERP aims to jumpstart and facilitate this process by providing an objective and transparent environment in which to compare multiple, leading ERP solutions side by side. Attendees will have the opportunity to sit down with top ERP software vendors one-on-one and network with representatives from other organizations that are experiencing similar technology challenges.
TEC experts will moderate the event, and our software selection team will be onsite to share lessons learned and best practices gathered during our hundreds of projects helping companies choose the best-fit software.
This two-day event covers all aspects of the enterprise software selection process—one that normally takes an organization weeks of research and planning. Each leading software vendor will demonstrate the features of their solution following a script created by TEC's selection experts, enabling attendees to do an "apples-to-apples" comparison of the various solutions.
Companies currently considering a new ERP software solution or looking to benchmark their existing system still have time to register for the upcoming event. For additional information or to register for the Spring 2017 Vendor Shootout™ for ERP on Feb 28-Mar 1, 2017, in Orlando, Florida, visit http://www.erpshootout.com or call 1-877-907-2702.
For more information about TEC's software selection services, contact +1 514-954-3665, extension 404, or email selectionservices(at)technologyevaluation(dot)com.
About Vendor Shootout™ for ERP
Created in 2007 by Brij Image and Information, the Vendor Shootout™ for ERP has helped to simplify software selection for hundreds of companies throughout the US and abroad. Brij's goal was to create an event where manufacturing and distribution organizations could come and witness multiple ERP packages in action, without sales pressure. This unique event has grown into an international brand that continues to change the way manufacturing and distribution organizations approach their software selection projects.
About Technology Evaluation Centers (TEC)
Technology Evaluation Centers (TEC) is the world's leading provider of software selection resources, services, and research materials, helping organizations evaluate and select the best enterprise software for their needs. With its advanced decision-making process and software selection experts, TEC reduces the time, cost, and risk associated with enterprise software selection.
Over 3.5 million subscribers leverage TEC's extensive research and detailed information on more than 1,000 leading software solutions across all major application areas. TEC is recognized as an industry-leading software selection advisory firm offering resources and services both online and onsite. For more information, visit http://www.technologyevaluation.com.