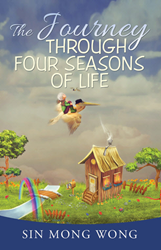 (PRWEB) January 09, 2017
At the age of seventy-five, Sin Mong Won can say he's escaped childhood poverty, attended college, played professional basketball, worked as a successful teacher and textbook author and became a healthy and happy philanthropist.
In his new book, "The Journey Through Four Seasons of Life," Wong tells his story of how he overcame life's obstacles and achieved success and happiness. "The Journey" is a how-to guide for living a life of success financially, healthfully and spiritually.
"Irrespective of your circumstances, there are ways to allow your full potential to develop," Wong said. "I have three 'basics' I like to follow: think well, speak well and write well. Success will follow you when you begin expanding your subconscious mind."
Wong, who is originally from Japan, overcame a tough childhood during the Japanese Occupation and rose to financial success after years of strategically working his way up in the education system.
"It's important to realize the power of the subconscious mind and its influence on your action or inaction," Wong said. "If you get rid of your old habits and limiting beliefs and replace them with the habits and beliefs of successful people, success will come much more easily."
"The Journey Through Four Seasons of Life"
By Sin Mong Wong
ISBN: 978-1-50350-698-5 (hardback); 978-1-50350-697-8 (softcover); 978-1-50350-696-1 (electronic)
Available at Xlibris, Amazon and Barnes & Noble
About the author
Sin Mong Wong was born during the Japanese Occupation and after facing hardship throughout his entire childhood, quickly learned many of the skills that have continued to help him succeed in life. The journey was long as he spent nearly three decades to equip himself with all the knowledge required to be a successful teacher. Wong retired at the age of fifty-one to further his study. He continues to write materials for mathematics curriculum innovations. To learn more about Sin Mong, visit his website at http://www.sinmongwong.com.
###
Review Copies & Interview Requests:
LAVIDGE – Phoenix
Chris Peña
480-998-2600 x 519
cpena(at)lavidge(dot)com
General Inquiries:
LAVIDGE – Phoenix
Bryan Beach
480-998-2600 x 510
bbeach(at)lavidge(dot)com