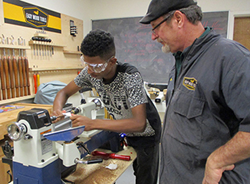 Congratulations to Woodcraft stores and the volunteer turners who made 2016 a record year for making pens for military personnel.
PARKERSBURG, W. VA. (PRWEB) January 05, 2017
Volunteer woodturners and Woodcraft retail store employees, working together, produced 13,720 one-a-kind wood pens during the Woodcraft Turn for Troops National Turn-a-Thon that have been shipped to military personnel on active duty or recovering in rehabilitation centers.
Volunteers have turned a grand total of 146,118 pens in the event's 13-year history. The 13,720 total for 2016 is the second highest yearly total in the event's 13-year history. The 2009 total is 17,228.
The annual turn-a-thon was held the weekend of Nov.11-12 and hosted by Woodcraft stores nationwide. Pens were also turned by individual volunteers and woodworking groups throughout the year and turned in to stores. Volunteers include a note with each pen to thank the recipient for service to his or her country.
"Congratulations to Woodcraft stores and the volunteer turners who made 2016 a record year for making pens for military personnel," Woodcraft president Jody Garrett said. "As the need continues for a U.S. military presence at many locations around the world, as well as at home, Woodcraft will continue to support this outreach effort to recognize the daily sacrifices made by military men and women."
Store Leaders
Woodcraft of Tucson, Arizona, is the top store in numbers of pens contributed during the 13-year event: 16,064. The store also provided the third highest number of pens in 2016:1,686. According to store owner Randy Castellini, these numbers reflect the dedication of Southern Arizona Woodturners Association members, along with other volunteers. The association members turn pens year-round so that by the National Turn-a-Thon time the annual total is substantial.
Woodcraft of Grand Rapids, Michigan, contributed the most pens in 2016: 4,004, and has the fourth highest 13-year total: 10,433. Hugh DeWeerd, Grand Rapids store manager, said customer David Moore, a Cold War/Vietnam veteran, is the key to the store's large pen contribution. "He turns 60 or so at a time and exchanges them for kits when completed. I think he has turned at least 3,900." Volunteers at the turn-a-thon also contributed to the 2016 total.
Moore learned about the Turn for Troops program at Woodcraft soon after he taught himself woodturning. A motorcycle wreck over 20 years ago and complications from Agent Orange in Vietnam have left Moore disabled, with a lot of time to fill. "I could spend my days watching television, but I find the offerings lacking substance. Instead, I've turned my energies to providing America's troops with writing utensils – pens. I turn whatever number of pen kits I'm given at one time, from a normal of 60 about twice a week to a hundred this past week. My total so far (for five years) is11,137 finished pens."
Other store leaders include:

Woodcraft of Nashville, Tennessee, second highest 13-year total: 15,218, and second highest number of pens in 2016: 2,000.
Woodcraft of Boise, Idaho, third highest 13-year total: 13,941, and fourth highest in 2016:1,303.
Individual Contributions
In addition to turners who contribute through stores, there are some who turn pens and send them directly to the Woodcraft corporate office. These volunteers include The Sutton family from Cape Coral, Florida, who contributed 148 pens in 2016 and an overall total of 710, and Nial J. Haden from Fredonia, New York, who turned 110 in 2016 and 734 overall.
David Sutton shared his family's process for making their pens for the military personnel: "It is truly a family affair; my mom, Delores, sews the pouches and helps with the final pack up where we put all the packets together. My dad, Donald, who is retired from the military, and I do the woodworking. I guess practice makes perfect because we have streamlined the process pretty well. We try to make an assembly line; we cut, then glue up, trim to barrels, turn, finish, and assemble. We try to do batches, so it's not just one at a time." Sutton said his parents will be 80 this year, so he likes keeping them involved through the pen project.
Hadden writes: "I enjoy doing the pens and feel that in a small way I am making a contribution to our troops. I am a veteran myself (Korean War and Cold War period) and have some idea what they are going through."
For more information about Woodcraft, please contact the store nearest you, visit http://www.woodcraft.com or call (800) 535-4482. To learn about Woodcraft franchise opportunities, visit http://www.woodcraftfranchise.com or email woodcraftfranchise(at)woodcraft(dot)com.