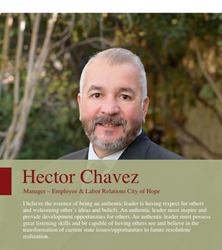 We chose Hector as CHL Hispanic Leader of the Month because of his unbridled enthusiasm, determination and passionate pursuit to advance Latino professionals in the workplace and elevate the importance of preventive care amongst Latino patient populations
Rancho Santa Margarita, CA (PRWEB) January 24, 2017
Center for Hispanic Leadership (CHL) Academy, the talent development and career advancement platform for 21st century leadership, has named Hector M. Chavez, Manager, Employee & Labor Relations at City of Hope, a world-renowned independent research and cancer and diabetes treatment center - as its Hispanic Leader of the Month. City of Hope is committed to stay out in front of its communities' growing diversity by being more culturally fluent and mindful of one's unique differences to best serve its patients, strengthen its workforce and employer brand, and improve the ways they approach research given the strategic implications of the cultural demographic shift and how this shift is impacting all populations.
According to CHL Academy founder Glenn Llopis, "We chose Hector as CHL Hispanic Leader of the Month because of his unbridled enthusiasm, determination and passionate pursuit to advance Latino professionals in the workplace and elevate the importance of preventive care amongst Latino patient populations throughout the diverse communities that City of Hope serves."
As Hispanic Leader of the Month, Chavez and his accomplishments throughout his 9 years at City of Hope are featured on the CHL Academy home page. He also has his own micro-page on the site, where he shares the influence of his Hispanic heritage on his life and career success.
Further explaining the decision to recognize Chavez, Llopis said: "Through CHL Academy, Hector realized how much an individual's cultural heritage impacts their leadership influence." Hector noted, "my CHL experience was a self-realization of how powerful our deeply rooted beliefs, culture and experiences, if recognized, can impact one's leadership role in the workplace."
In addition to his role in employee & labor relations, Chavez is the founding member of City of Hope's diversity resources group, Latinos for Hope, that was established to support City of Hope's mission of transforming the future of health and advance the organization's diversity and inclusion strategy. Hector is also a member of the Society of Human Resource Management, the American Society for Healthcare Human Resources Administration of the American Hospital Association, National Forum for Latino Healthcare Executives and a member of Professionals in Human Resources Administration.
For more information or to nominate a Hispanic Leader of the Month, please contact Annette Prieto at annette(at)glennllopisgroup.com or via phone at 949-331-8629.