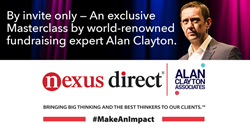 This was by far the best educational experience I have experienced so far in my career. Alan brought participants to new emotional heights, sparking their empathy and generating exceptional levels of creativity. –– Professor Jen Shang, Indiana University
Norfolk, VA (PRWEB) January 05, 2017
Nexus Direct, an international, full-service direct marketing agency, announced today that Alan Clayton, a world renowned fundraising industry leader, would be offering his first ever Masterclass in the Washington, D.C., area on Tuesday, January 24, 2017, from 9 a.m. until 1 p.m. at the Willard Intercontinental Hotel.
This intensive, by-invitation-only Masterclass is designed for senior-level fundraisers and development and membership officers working for nonprofit organizations. The event is limited to a small group to allow for rich discussion. To request an invitation, email masterclass(at)nexusdirect(dot)com.
"At Nexus Direct, we are committed to bringing big thinking and the best thinkers to our clients," said Suzanne Cole Nowers, CEO of Nexus Direct. "We've worked closely with Alan and many of our European clients, and have seen firsthand what a dynamic and inspirational coach he is."
Building directly from the findings of the Great Fundraising Report by eminent fundraising academics Professors Adrian Sargeant and Jen Shang, Clayton will guide Masterclass participants through the cultures, behaviors, and leadership required to achieve large-scale, sustainable growth in their organization. Each participant will receive a copy of the Great Fundraising Report, all learning materials from the session, as well as coaching with Alan in an energetic, small-group setting. Breakfast and lunch will be provided.
Past Masterclass participants rave about the experience: "This was by far the best educational experience I have experienced so far in my career. Alan brought participants to new emotional heights, sparking their empathy and generating exceptional levels of creativity," said Professor Jen Shang, Philanthropic Psychologist and Director of Research at Lilly Family School of Philanthropy at Indiana University.
For more information or to request an invitation, please email masterclass(at)nexusdirect(dot)com.
About Nexus Direct: Nexus Direct is an independent, full-service direct marketing agency with a broad range of corporate, political, national association, and nonprofit clients. Founded in 2004, Nexus Direct is a nationally certified Women's Business Enterprise and has been named three times to the Inc. 5000 list of "America's Fastest-Growing Companies." Recognized on four Top Business Lists nationally and statewide in 2016 by DiversityBusiness.com and named as a Top 100 Agency by the Agency Post in 2013, Nexus Direct is headquartered in Norfolk, Virginia, with offices in Washington, D.C., and Amsterdam. nexusdirect.com