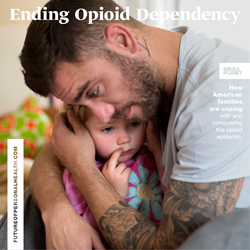 The campaign provides insight into a population impacted by this crisis that is often overlooked
(PRWEB) January 05, 2017
Mediaplanet has unveiled its cross-platform "End Opioid Dependence" campaign, focusing on the growing epidemic of opioid misuse in the United States. The campaign provides insight into a population impacted by this crisis that is often overlooked: The caregivers and family members of those living with opioid and heroin addictions. The print and digital publication focuses on several key issues surrounding this crisis including signs to recognize opioid misuse in a loved one, the role played by physicians and the medical community in turning the tide on this crisis, and an explanation of the treatment options available.
"End Opioid Dependence" is a print and online campaign, distributed within this weekend's edition of USA Today in Houston, Boston, Cincinnati, Pittsburgh, Cleveland, Denver, and Philadelphia, with a circulation of approximately 250,000 copies and an estimated readership of 750,000. The print component will also be featured at several industry events including the C4 Axis Summit (January 29 – February 1), The 2017 National Council for Behavioral Health NATCOM Conference (April 3-5), the American Society of Addiction Medicine (ASAM) 48th annual conference (April 6-9), and The National RX Drug Abuse and Heroin Summit (April 17-20).
The digital component of the campaign is distributed nationally through a vast social media strategy and across a network of top news sites and partner outlets. To explore the digital version of the campaign, click here. The digital homepage and cover of the print publication features the story of four different families, all impacted by heroin and opioid addictions. The narrative discusses the various treatment options available, and stresses the importance of naloxone access and Medication-Assisted Treatment (including Naltrexone, Methadone, and Buprenorphine) as crucial to solving this crisis.
This campaign was made possible with the support of The Partnership for Drug-Free Kids, The National Council for Behavioral Health, the American Society of Addiction Medicine, Alkermes, Vendome Publishing, The National Center on Addiction and Substance Abuse, The National Association of Drug Court Professionals, The Harm Reduction Coalition, and many others.
To learn more about prescription medication and heroin addiction and the resources and treatments available to end opioid dependence, click here.
About Mediaplanet
Mediaplanet is the leading independent publisher of content marketing campaigns covering a variety of topics and industries such as Health, Education, Lifestyle, Business and Technology, and Corporate Social Responsibility. We turn consumer interest into action by providing readers with motivational editorial, pairing it with relevant advertisers and distributing it within top newspapers and online platforms around the world. Please visit http://www.mediaplanet.com for more on who we are and what we do.