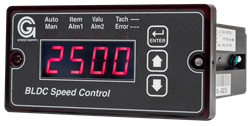 Sioux Center, IA (PRWEB) January 06, 2017
Groschopp, Inc. is offering a digital control with a microprocessor-based design that is compact and programmable. Desired RPM rates can be achieved by pressing the "up" and "down" buttons on the front panel. Easy to operate, these settings can be repeated, will accurately control within ½ RPM of the desired speed and will be exact. All wiring connects directly to a rugged screw-type terminal strip through the rear panel.
Additionally, this Brushless DC speed control has a digital closed loop, a LED display for BLDC motors rated up to 400 watts and the following characteristics:

Transient voltage protection
Factory or field programmable via front panel
Self-contained power supply for motor halls
Configurable alarms/status and alarm indicators
Non-volatile memory stores
Configure min/max speed and acceleration/deceleration
Forward/reverse control
For over 80 years, Groschopp Inc. has delivered expert technical assistance, superior product performance, quality-honed workmanship and industry experience in the manufacture of highly engineered fractional horsepower electric motors and gear motors for OEM and distribution products. With products designed and manufactured in the USA, Groschopp offers a full line of AC, DC, brushless DC and universal motors—as well as Brushless controls—that can be combined with right angle worm, planetary, right angle planetary or parallel shaft gearboxes. (An ISO 9001:2008 registered company.)
If you would like to know more about this topic, please call the Groschopp sales team at 712-722-4135 or browse the website with the following link: http://www.groschopp.com/product/motor-controls/.