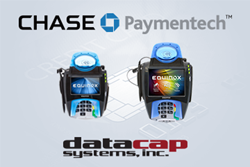 Installation flexibility is paramount for the channel, so the ability to provide EMV options from leading providers puts our partners in a position to capitalize on sales opportunities
Chalfont, PA (PRWEB) January 06, 2017
Datacap Systems, a leading integrated payments middleware provider, has completed US EMV level 3 certification with Chase Paymentech for the EMV-enabled L5200 and L5300 from Equinox. Point of Sale providers who have integrated to Datacap's industry-standard NETePay™ for semi-integrated payments now have plug and play access to the Equinox hardware – no changes to the POS required.
NETePay provides Point of Sale developers with a processor and hardware agnostic integrated payments solution for US and Canadian EMV. As support for more devices are added via on-going processor certifications, Point of Sale partners gain immediate access without requiring additional development or certification.
"We're excited to add the Equinox L5200 and L5300 to our growing list of certified EMV-enabled devices," commented Justin Zeigler, Dir Product Strategy at Datacap Systems. "Installation flexibility is paramount for the channel, so the ability to provide EMV options from leading providers like Equinox, Ingenico and Verifone, with more devices in the pipeline, puts our partners in a better position to capitalize on sales opportunities."
If your Point of Sale package isn't yet integrated to Datacap's payment interfaces, contact us today to get started!