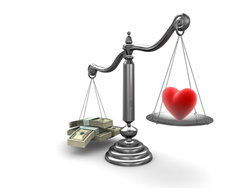 People are forgoing egocentric values and embracing the types of values that will help them achieve greater unity and harmony.
Montreal, Canada (PRWEB) January 07, 2017
Humanity is constantly driven towards progress and improvement, and with the start of a new year there is a desire to do more, be more, and achieve more than the year before. However, during times of economic and political unrest - as was the case for the end of 2016 - there is a desire to refocus priorities, and to reevaluate what matters most. The results of a study by researchers at Queendom.com reveal that values are becoming less egocentric and more globally oriented.
Examining data from 1088 people who took their Values Profile, researchers at Queendom analyzed the rankings of 30 different values. According to their study, these are the top 5 values that matter most to people right now:
Ranked #1: EMPATHY
The value of empathy and compassion tops the list as the most important value. When images of desperate refugees fleeing war-torn countries flashed across screens all over the world, an overwhelming desire to help arose along with it. In times of crisis, a sense of compassion for the suffering of others blurs religious, cultural, and political differences and brings strangers together for a common cause.
Ranked #2: FAMILY & FRIENDS
The desire to develop stronger bonds with friends and family is increasing in importance, despite their annoying quirks. Social support is crucial, particularly during times of stress. Within most individuals is the desire to belong and to be accepted by others.
Ranked #3: HARD WORK
There is nothing more disconcerting and discouraging as an unproductive rut. Regardless of occupation, education, and cultural background, Queendom's study reveals that people are driven to achieve and determined to make something of themselves. The value of hard work is immeasurable, as it not only provides financial compensation, but a sense of pride and accomplishment as well.
Ranked #4: ALTRUISM
Nothing truly compares to the feeling that a person's life has changed for the better because of you, be it charitable aid, a helping hand or a compassionate shoulder to cry on. Ranked fourth on the list of values is a desire to live in a world in which one can depend on the kindness of strangers.
Ranked #5: STABILITY
Try as one might to live in the moment, times of unrest generate a longing for stability, a value that is increasing in importance. This goes beyond the need for simple self-preservation; people want to know that they can depend on job security and a regular paycheck as well as solid friends, a stable government, and a steady economy.
"Even when we isolated certain populations, like women, men, Millennials, Generation Xers, and Baby Boomers, this particular group of values still remained in the top 10, if not the top 5," explains Dr. Jerabek, president of PsychTests. "The only exceptions we saw were that men valued innovation over altruism, Generation Xers valued ethics & morals over stability, and Baby Boomers espoused community values more than family/friends. Still, in spite of these minor differences in ranking, our original conclusion remains that same: People are forgoing egocentric values like money (ranked 15th), power (ranked 28th), and recognition (ranked last), and embracing the types of values that will help them achieve greater unity and harmony. And we feel this is a great way to start a new year."
Want to assess your values? Check out http://www.queendom.com/tests/take_test.php?idRegTest=3619
Professional users of this test can see a sample of the Values Profile test report: VaPro (Values Profile)
Request a free demo of this test and any other assessments from ARCH Profile's extensive battery: http://hrtests.archprofile.com/testdrive_gen_1
To learn more about psychological testing, download this free eBook: Spotting Diamonds in the Rough. (http://hrtests.archprofile.com/personality-tests-in-hr)
About PsychTests AIM Inc.
PsychTests AIM Inc. originally appeared on the internet scene in 1996. Since its inception, it has become a pre-eminent provider of psychological assessment products and services to human resource personnel, therapists, academics, researchers and a host of other professionals around the world. PsychTests AIM Inc. staff is comprised of a dedicated team of psychologists, test developers, researchers, statisticians, writers, and artificial intelligence experts (see ARCHProfile.com). The company's research division, Plumeus Inc., is supported in part by Research and Development Tax Credit awarded by Industry Canada.