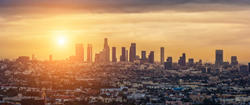 An evening of pure, raw wisdom about fundraising, building, and scaling a tech startup, presented by visionary Founders and CEOs.
El Segundo, California (PRWEB) January 06, 2017
SplashX LA "Joy Ventures" will feature prominent Founders and CEOs from tech enterprises that have raised over $15 million in funding. The unique aspect of this tech talk is that it brings together entrepreneurs and VCs for a relaxing evening of mingling and sharing lessons and inspirations on fundraising, building, and scaling a startup.
WHAT: SplashX LA "Joy Ventures"
WHEN: January 19, 2017
WHERE: JustFab/TechStyle Fashion Group Headquarters, 800 Apollo St., El Segundo, CA 90245
PARKING: 2145 Park Place, El Segundo, CA 90245
TIME: 5:30 pm – 9:00 pm
PRICE: $55 General Admission; $75 At the Door
CONTACT: tram@vator.tv
Highlights include:
Splash Talks by Mitch Thrower, Founder of Events.com, and Chris Vaughn, Founder of Saucey.
A Splash Roundtable panel discussion on the funding landscape in 2017, featuring Carmen Palafox, Partner at Make in LA; Brian Garrett, Co-Founder and Operating Partner at Crosscut Ventures; Laurent Grill, Program Director and Investor at Luma Launch; Rich Jun, Managing Partner at BAM Ventures; Colleen Poynton, Vice President at Core Innovation Capital; and Kevin Zhang, Partner at Upfront Ventures.
What's the state of the venture capital and funding landscape? After the 2016 slowdown, 2017 looks bullish for early-stage investing and IPOs. Venture capital looks to be returning to its fundamental roots – targeting promising young companies early in their formation and betting on their potential to soar. How are venture models changing? What is being funded? Now that there isn't a glut of seed-stage startups looking for Series A, what's the role of the post seed investor? What are the hot sectors in 2017? FinTech? HealthTech? CleanTech? Transportation as a service?
The show will be hosted by Shawn Gold, CMO of TechStyle Fashion Group. Each Splash Talk and Splash Roundtable will be followed by a 10-minute audience Q&A.