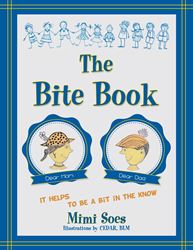 Los Angeles, CA (PRWEB) January 09, 2017
When most parents send their children off to preschool, the last thing they want to worry about is their children being involved in a biting incident. But it happens.
Mimi Soes is the former owner of a small private school and childcare facility in Los Angeles, California, who has witnessed firsthand the dramas and traumas of children's biting issues in preschools. From her experiences, Soes wrote her first book.
"The Bite Book," details helpful information for parents, teachers and caregivers on why children bite and encourages politicians and medical professionals to act on the situation.
"I've seen the pain that children and parents experience from being bitten in the childcare environment," Soes said. "They do it out of frustration and the need for attention, but there is only so much teachers and caregivers can do on their own to reduce the incidents."
In order to create a safer educational environment for children, it is imperative that all parties take initiative on helping solve the larger societal problems at stake. Parents will gain a sense of relief that the issue is being addressed as this book opens the conversation about the causes and dangers of biting.
Soes hopes that "The Bite Book" will help readers have a greater understanding of issues while taking action to raise awareness about biting issues in preschools, leading to healthier and happier families.
"The Bite Book"
By Mimi Soes
ISBN: 978-1-4808-1270-3 (paperback); 978-1-4808-1269-7 (electronic); 978-1-4808-1268-0 (hardback)
Available at the Archway Publishing Online Bookstore and Amazon
About the author
Now retired, Mimi Soes has an extensive background in childcare as the former owner of a small private school and childcare facility in California. Soes has dedicated much of her life to education, as she pioneered the early childhood field.
Review Copies & Interview Requests:
LAVIDGE – Phoenix
Maggie Driver
480-998-2600 x 584
mdriver(at)lavidge(dot)com
General Inquiries:
LAVIDGE – Phoenix
Courtney Coombes
480-998-2600 x 612
ccoombes(at)lavidge(dot)com