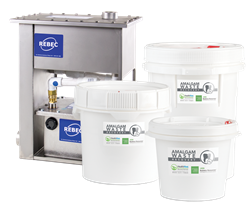 The HealthFirst Amalgam Recovery Program provides tremendous value and protection to our ADA members
Seattle, Washington (PRWEB) January 10, 2017
The Environmental Protection Agency (EPA) announced last month new regulations that require dental offices to reduce their discharge of dental amalgam into public wastewaters. This will be achieved by requiring all offices covered by this initiative to install and maintain amalgam separators and the use of Best Management Practices for amalgam waste management and recovery. In response, HealthFirst's Amalgam Recovery Program, which was endorsed by ADA Business Resources, will provide dental practices with a comprehensive and cost-effective amalgam recovery solution. This solution meets the ADA's recommended best practices for the responsible handling of amalgam waste and exceeds the requirements set forth by the EPA for preventing dental mercury from entering our water supply as the solution was tested to have a 99.6% removal efficiency per ISO 11143:2008. In addition, ADA members will have the exclusive benefit of significant savings, a lifetime warranty on Rebec Environmental amalgam separators and an indemnification for waste water pollution fines.
Ms. Deborah Doherty, Managing VP of ADA Business Resources, commented on the endorsed service provided by HealthFirst. "The solution provided by HealthFirst stands above the rest. The Rebec amalgam separators provides an excellent level of effectiveness, efficiency and durability, and the Amalgam Waste Recovery containers provide our customers with a cost-effective way to safely dispose of their amalgam waste per the EPA initiative and ADA Best Management Practices. The HealthFirst Amalgam Recovery Program provides tremendous value and protection to our members. And, as with all of our endorsed services, ADA Business Resources staff is available should members have any questions or concerns."
"We are thrilled that the American Dental Association has endorsed HealthFirst's Amalgam Recovery Program to help ADA Members implement best practices for responsible handling of amalgam waste," said Earl Greene, General Manager at HealthFirst. "The rigorous due diligence process ADA Business Resources undertook substantiates our belief that we have the best-in-class solution."
"The EPA initiative incurs a high impact on our dental office customers," said Dr. Don Cohen, Chief Compliance Officer for HealthFirst. "Our program provides ADA Members with a high quality solution that exceeds all EPA, state and local requirements which leverages technology to help mitigate compliance risk, while also being cost effective and worry-free."
ADA Members looking for a cost-effective, reliable, environmentally-friendly turnkey solution for amalgam recovery can contact a HealthFirst Compliance Counselor at 888.963.6787 or visit http://www.healthfirst.com/ada/.
About HealthFirst: HF Acquisition Co. LLC (d.b.a. HealthFirst) is the leading provider of dental compliance products and services including dental waste stream management, emergency preparedness and response, infection control and training solutions for dental practices. HealthFirst was founded in 1971 and is headquartered in Mukilteo, Washington. The company provides services to approximately 50,000 dental practices each year.
About ADA Business Enterprises, Inc.: ADA Business Enterprises, Inc., is a wholly owned subsidiary of the American Dental Association. The products and services they endorse help ADA members manage the business-side of their dental practices more smoothly and productively.