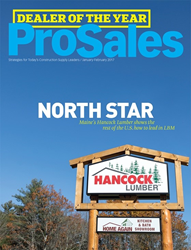 "Rarely have I seen a dealer excel in as many ways as Hancock," PROSALES editor-in-chief Craig Webb said.
Washington, D.C. (PRWEB) January 09, 2017
Hanley Wood, the premier information, media, event, and strategic marketing services company serving the residential, commercial design, and construction industries, is pleased to announce that Hancock Lumber, based in Casco Maine, has been selected as the PROSALES Dealer of the Year for 2017.
The PROSALES Dealer of the Year award honors outstanding achievements in construction supply operations, management, and innovations, as well as meritorious service to the dealer's community and to the lumber and building material industry. Only one construction supply dealer is chosen per year out of roughly 7,500 nationwide. This is the 25th year the prize has been awarded. As winner, Hancock Lumber is featured in the cover story in the PROSALES January/February issue and on its website, prosalesmagazine.com.
"Rarely have I seen a dealer excel in as many ways as Hancock," PROSALES editor-in-chief Craig Webb said. "This 14-location, 475-employee, $155 million company is built on foundation stones of core values, individual initiative, and data-driven insight to not just make it a success now, but likely remain a success for years to come."
As with most previous PROSALES Dealers of the Year, Hancock Lumber is a family-owned business; current president Kevin Hancock is the sixth generation to run the company. The firm dates back to 1848 and also owns timberland and runs its own mills.
Hancock Lumber is a huge believer in team-oriented, bottoms-up problem solving. It's a trend that was propelled in part when Kevin Hancock developed a medical condition spasmodic dysphonia, in which involuntary spasms in the larynx caused Kevin's voice to break up and made it painful to speak for any length of time. Kevin began to speak less, and in doing so he discovered that people not only would talk more but also suggest ways to solve problems rather than rely on him to give directions.
Hancock also is fanatical about measuring its own performance so that it can find ways to improve customer service. Consultants say it ranks among the nation's best in On Time In Full, a metric that measures the share of all deliveries by the time promised with everything requested on board. The higher the number, the more likely a customer will be happy with Hancock's service.
To read the complete story about Hancock Lumber, as well as see a collection of great ideas to emulate, visit prosalesmagazine.com.
About Hanley Wood
Hanley Wood is the premier company serving the information, media, and marketing needs of the residential, commercial design and construction industry. Utilizing the largest analytics and editorially driven Construction Industry Database, the company provides business intelligence and data-driven services. The company produces award-winning media, high-profile executive events, and strategic marketing solutions. To learn more, visit hanleywood.com.