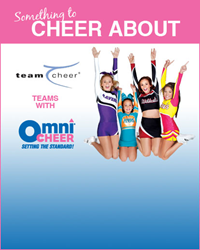 We look forward to welcoming their customers to the Omni Cheer family.
San Diego, CA (PRWEB) January 06, 2017
Omni Cheer®, a San Diego based youth athletic apparel company, announced the acquisition of cheerleading assets of Team Cheer®. Team Cheer is an athletics catalog and online retailer based in Geneseo, New York.
"We are very pleased with the acquisition of Team Cheer's cheerleading assets," said Russell Levine, Omni Cheer's CEO. "We look forward to welcoming their customers to the Omni Cheer family."
With the largest selection of customizable cheerleading uniforms, warmups, shoes and accessories including poms, bows, socks, bags, camp wear and other in-stock items ready to ship, Omni Cheer provides teams the ability to create a unique spirit look at affordable prices.
Omni Cheer carries top cheerleading brands such as Chassé®, Nike®, Adidias®, Asics®, Ion Cheer®, Soffe®, Glitterbug™ Cosmetics and more, all in one online location, http://www.omnicheer.com. Omni Cheer is also partnered with CheerLiving® Magazine, a free mobile app that features industry articles, tips and insight from cheer professionals, product reviews and more.
About Omni Cheer:
For more than 40 years, Omni Cheer has been serving cheerleaders and cheerleading programs with high-quality cheer merchandise from leading brands at affordable prices. Omni Cheer is committed to helping cheer teams find the right products, offering unique customization options and providing a variety of shipping options. To order products, sign up for the catalog or learn more about Omni Cheer, visit http://www.omnicheer.com.