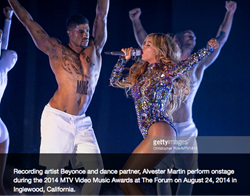 Los Angeles, CA (PRWEB) January 05, 2017
She stamped "MINE" across his chest, and 10 years later her chosen male dance partner, ALV3STER, sets out on his own.
Most would kill for his front-row seat to history, including a Super Bowl performance that never happened, a VMA performance that almost didn't happen, and Secret Shoots he is still barred from discussing- yet Alvester Martin- a.k.a. ALV3STER is saying 'goodbye' to it all.
After over 10 years of sharing the Spotlight with the Queen (and a host of others -- Mariah, Rihanna, and Jlo to name a few), this King is stepping out of the shadows and into a light of his own.
Complete with his truth-telling Lemonade-style debut album, 'Love Me or Leave Me,' and a steamy new show airing Wednesdays on Lifetime 10/9c -- 'Black Magic' -- this triple threat is a force to be reckoned with.
Citing the best college education known to an aspiring entertainer- complete with on-the-job training from the mega-entertainer herself, the influence of Prof. Knowles-Carter screams in ALV3STER's recently released visuals for his debut single, "OVERDOSE" http://vevo.ly/I8EDW6 a provocative cut from forthcoming LP.
Speaking of cinematic, ALV3STER is taking another page out of his mentors' I Slay: 101 handbook, with the campaign promoting 'Love Me or Leave Me' also to include a feature role in the big-screen production 'Kinky' -- set for a Valentines Day release.
All hail to Queen Bey as this King, ALV3STER, will have plenty of proof he was schooled by the very best.
For more information please visit Media Contact: Carrington A. Bester at cbester(at)skylimitgroup(dot)com or 786.326.3359.