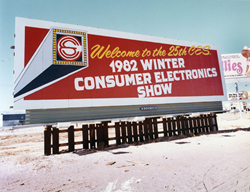 Denver, Colorado (PRWEB) January 05, 2017
The Consumer Electronics Show has been an important part of innovation in technology for five decades now, and Innovation & Tech Today is proud to be an official media partner with CES.
To celebrate the 50th anniversary of CES, Innovation & Tech Today is excited to announce the first ever annual scavenger hunt. The hunt will run for the duration of #CES2017, starting on January 5th, 2017 at 8:00am PST and ending on January 8th, 2017 at 1:00pm PST.
The scavenger hunt is a fun way for attendees to experience the Show and visit our partners, and participation is very simple. Players can obtain a Scavenger Hunt Card from any of Innovation & Tech Today's partners at the Show, and as they visit the partners' booths, participants will receive unique stamps on their card.
Once the card is full, anyone participating in the scavenger hunt can drop off the completed card at the Innovation & Tech Today Pavilion 21649 / Las Vegas Convention Center to be entered to win from a prize pool valued over $2,500.
In addition to the scavenger hunt, Innovation & Tech Today has organized the #MyCES50 hashtag to commemorate 50 years of consumer electronics excellence. The purpose of the hashtag is to share the most memorable moments from past CES events, whether it was a keynote speaker who left a lasting impact or a product reveal that left us speechless.
To spread the reach of #MyCES50, Innovation & Tech Today has also organized a random giveaway available to anyone and everyone that participates by sharing the memories, photos, videos, or stories that have made CES such a special gathering over the past 50 years.