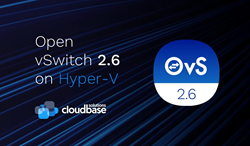 Timisoara, Romania (PRWEB) January 10, 2017
Cloudbase Solutions is happy to announce the release of Cloudbase Open vSwitch (OVS) 2.6 for Microsoft Hyper-V, allowing the integration of Hyper-V virtual machines and Windows Containers in multi-hypervisor clouds.
Networking is one of the areas which enjoyed the largest amount of innovation in recent years, especially in software configuration and multi-tenancy, with Open vSwitch playing the leading part in this domain by far. With the availability of Cloudbase Open vSwitch 2.6 for Microsoft Windows Server 2012, 2012 R2 and 2016, the integration of Hyper-V in multi-hypervisor clouds using standard overlay protocols can now be leveraged as a powerful tool.
Open vSwitch on Windows provides the same tools and services available on Linux, OpenFlow, OVSDB and fully interoperable GRE, VXLAN, GENEVE, STT encapsulation between Windows and Linux, including Hyper-V and KVM-based virtual machines. Additionally, OVS allows Hyper-V networking to be managed by OpenDaylight (ODL), OVN or other OpenFlow compatible controllers.
"As a founder of the Open vSwitch project, I'm always excited to see Open vSwitch come to new platforms. From my perspective, bringing Open vSwitch to Windows and Hyper-V opens up a whole new world of potential users", said Ben Pfaff, Open vSwitch project lead, VMware.
Today's release also highlights the continued commitment of Cloudbase Solutions and Microsoft to the Open vSwitch ecosystem by releasing the Hyper-V integration components as open source on GitHub, and contributing it into Open vSwitch, a Linux Foundation project.
Also released by Cloudbase Solutions, was a Windows installer that includes the Cloudbase Open vSwitch binaries and Microsoft signed drivers for all the supported versions of the operating system, including Windows Server and Hyper-V Server 2012, 2012 R2 and 2016, Windows 8, 8.1 and 10.
"We are very glad to contribute to the Open vSwitch project, being the de facto open source standard for software defined networking in modern clouds. The availability of Open vSwitch on Windows allows complete interoperability with Linux in key projects like OpenStack or Kubernetes, enabling business scenarios simply unthinkable before", said Alessandro Pilotti, CEO, Cloudbase Solutions.
KY Srinivasan, partner software engineer manager, Enterprise Open Source, Microsoft Corp. said, "Our collaboration with Cloudbase Solutions ensures OVS for Hyper-V interoperates well with our products, facilitates access to our CI infrastructure and allows a rapid release in compliance with community policies. In addition, our work reflects the broader commitment to collaborate with the open source ecosystem and ensure first-class experiences for our customers."
About Cloudbase Solutions
Cloudbase Solutions is dedicated to cloud computing and interoperability. Our mission is to bridge the modern enterprise and cloud computing worlds by bringing OpenStack to Windows based infrastructures.
This effort starts with developing and maintaining all the crucial Windows and Hyper-V OpenStack components and culminates with a product range which includes Coriolis for Cloud migrations / DRaaS, orchestration for Hyper-V, SQL Server, Active Directory, Exchange and SharePoint Server via Juju charms and Heat templates.
About The Linux Foundation
The Linux Foundation is the organization of choice for the world's top developers and companies to build ecosystems that accelerate open technology development and commercial adoption. Together with the worldwide open source community, it is solving the hardest technology problems by creating the largest shared technology investment in history. Founded in 2000, The Linux Foundation today provides tools, training and events to scale any open source project, which together deliver an economic impact not achievable by any one company. More information can be found at http://www.linuxfoundation.org.
Contact(s) information
Will Mapp - Global Business Development / Marketing wmapp(at)cloudbasesolutions(dot)com