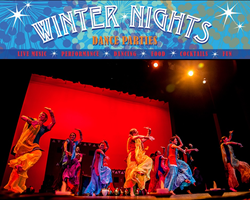 The colors, dance, and music will transform and re-energize.
San Rafael, CA (PRWEB) January 06, 2017
The JCC offers a trip to India in one night right in Marin County, Calif. Experience the beauty, colors, rhythms, sounds, and flavors of India featuring Dholrhythms Dance Company. An upbeat and joyful dance production will tell the story of women in the villages of Punjab, India through beautiful dance choreography weaved in with music, visuals, props, narration, live drumming and song.
The dance performance will lead into dance instruction, sharing fun and easy-to-learn dance steps followed by a great dance party on the floor with Dholrhythms Dance Co. and music by DJ Jimmy Love (Non Stop Bhangra) accompanied by live dhol drummers.
Come shake off those winter blues with a joyful night of dance! Watch, learn, participate, and enjoy! Free Bindis at the door!
Live Music * Performance * Dancing * Food * Dance Class * Cocktails * Fun
"The colors, dance, and music will transform and re-energize."
WHAT: An evening celebrating the Colors of India with dance performance followed by instruction and Dance Party for all. Dinners & Henna Art available for purchase, no-host cocktails. Purchased food & drink allowed in the theater. Fun for all, family-friendly.
WHEN: Saturday, Feb. 4, 2017 @ 8 p.m.
7 p.m.: Pop-Up Restaurant & No-Host Full Bar
8 p.m.: Dance Performance
8:45 p.m.: Intermission
9 p.m.: Dance Lesson/ Dance Party
WHERE: Kanbar Center for the Performing Arts at The Osher Marin JCC, 200 North San Pedro Road, San Rafael | 444.8000| Just ¼ mi E of 101
SEATING: Reserved Table Seating & General Admission Options
TICKETS: $20 - $25 General Admission
$25 - $30 Reserved Table Seating
Ages 17 & under: $10
Tix & Info Available @ http://www.marinjcc.org/arts
For more info, please contact: Linda Bolt :: lbolt(at)marinjcc(dot)org :: 415.444.8081
About Osher Marin JCC Performing Arts:
The Kanbar Center has established a strong and well-respected reputation within the community as a Center for the Performing Arts in Marin County. Originally known as CenterStage, this performing arts department within the Osher Marin JCC has been presenting a stunning lineup of world-class performances from emerging and established performers annually since 1990. Venues include the grand Hoytt Theater, the intimate Kurland Lounge, and Swig Field, an outdoor venue nestled near the hills of Marin and home of the celebrated Summer Nights festivals.