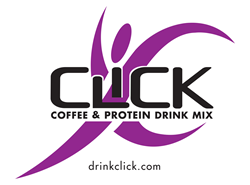 We have received a lot of outstanding feedback about CLICK® Coffee Protein Drink Mix, and can't wait to continue to spread the word at this ECRM conference
(PRWEB) January 09, 2017
CLICKco, LLC, a company known for its unique, highly refined, coffee house-caliber protein and espresso drink, announced it will attend the upcoming January ECRM trade show in Hilton Head, SC.
CLICK® Coffee Protein Drink Mix has made major waves in the nutritional beverage segment by targeting the coffee protein drink to health-conscious consumers. Now it will be able to reach out to more people in person while attending this trade show, all while surrounded by some of the major players in today's nutritional products industry.
"We are very much looking forward to attending the Hilton Head ECRM trade show," said Greg Smith, co-founder of CLICKco, LLC. "We have a really unique product that has created a lot of excitement among customers, and we can't wait to see the kind of response people have to it in person. It will also be a great opportunity for us to see some of the biggest trends in our industry right now and learn a little bit ourselves."
CLICK® Coffee Protein Drink Mix is the only pure espresso/protein drink on the market. With more than 16 grams of high-quality protein, gourmet espresso, essential vitamins and minerals and none of the sugary chemicals you would find in a typical cappuccino, CLICK® makes for the perfect pick-me-up for people striving to live a healthy lifestyle.
CLICK® Coffee Protein Drink Mix was made to be an alternative to traditional high-calorie, sugar and chemical laden espresso drinks common at chain coffee shops. The drink uses real espresso, not coffee flavor, which gives the drink the most natural caffeine and coffee bar-style latte, mocha, vanilla, and caramel flavors.
"We have received a lot of outstanding feedback about CLICK® Coffee Protein Drink Mix, and can't wait to continue to spread the word at this ECRM conference," said Smith. "What easier way for people to get the protein they need for weight loss or to support your active lifestyle then through a beverage you truly love - coffee!"
For more information about CLICK, visit drinkclick.com.