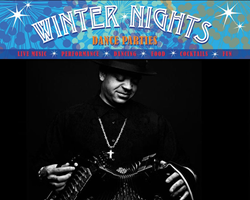 Uplifting music to make your day.
San Rafael, CA (PRWEB) January 06, 2017
The Kanbar Center at the Osher Marin JCC presents the final concert of the 2nd Annual Winter Nights Dance Party Series. Tonight celebrates the music and culture of southwestern Louisiana, as Zydeco music returns to the JCC. This accordion-driven sound was originally created at house dance parties where families and friends gathered for socializing. Emerging from the French Creole culture, Zydeco integrates Afro-Caribbean, waltz, shuffles, blues, rock & roll and other forms of great danceable music. Andre Thierry takes Zydeco to the next generation spicing things up with a dash of hip-hop and jazz added to the gumbo.
Come dance and enjoy the great energy that this music creates. Pre-concert Cajun two-step dance lesson & cultural flavored dinners available for purchase.
Live Music * Performance * Dancing * Food * Dance Class * Cocktails * Fun
"Uplifting music to make your day."
WHAT: An evening of upbeat, happy and danceable music with southwestern Louisiana roots, dinners available for purchase, no-host cocktails, pre-concert dance class and fun for all. Purchased food & drink allowed in the theater.
WHEN: Saturday, Feb. 11: 2017 @ 8 p.m.
7 p.m.: Pop-Up Restaurant & No-Host Full Bar
7:40 p.m.: Cajun two-step Dance Class
8 p.m.: Performance/ Music & Dancing
WHERE: Kanbar Center for the Performing Arts at The Osher Marin JCC, 200 North San Pedro Road, San Rafael | 444.8000| Just ¼ mi E of 101
SEATING: General Admission/ first come/ Cabaret Table Seating options
TICKETS: $20 - $25 General Admission
Ages 17 & under: $10
Tix & Info Available @ http://www.marinjcc.org/arts
About Osher Marin JCC Performing Arts:
The Kanbar Center has established a strong and well-respected reputation within the community as a Center for the Performing Arts in Marin County. Originally known as CenterStage, this performing arts department within the Osher Marin JCC has been presenting a stunning lineup of world-class performances from emerging and established performers annually since 1990. Venues include the grand Hoytt Theater, the intimate Kurland Lounge, and Swig Field, an outdoor venue nestled near the hills of Marin and home of the celebrated Summer Nights festivals.