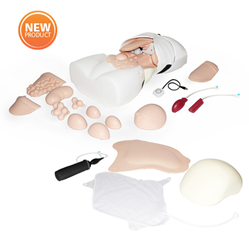 Early demonstrations of the product have been very encouraging, with both clinicians and teachers identifying a real need for the trainer for their curriculums
Savannah, GA (PRWEB) January 10, 2017
Limbs & Things is launching the new Abdominal Examination Trainer at the International Meeting on Simulation in Healthcare on January 28th-February 1st in Orlando.
The Abdominal Examination Trainer has been designed in collaboration with clinicians to represent an anatomically accurate adult male torso, ideal for teaching and practicing palpation, auscultation and percussion of abdominal or gastrointestinal examination.
It is an ideal training tool for both undergraduate and postgraduate use, including preparation and testing for OSCE's. The trainer includes interchangeable organs of varying sizes, as well as an integral MP3 player providing realistic sounds, allowing the differentiation between normal and abnormal pathologies.
The flexibility of the trainer allows for multiple learning scenarios, from the early states of familiarization of the abdominal regions and underlying anatomy, through to identification of ascites, shifting dullness, fluid thrill and gaseous distention.
"Early demonstrations of the product have been very encouraging, with both clinicians and teachers identifying a real need for the trainer for their curriculums" Anne Allin, Commercial Director said.
The Abdominal Examination Trainer is priced at $8,000.00 and is available from Limbs & Things from January 2017.
Limbs & Things was established in Bristol, England in 1990 by medical artist Margot Cooper. The business focuses on the development, manufacture and sale of medical training products for healthcare professionals and students worldwide. They are committed to working in close collaboration with clinicians globally to produce realistic task trainers, that enable more competent and confident professionals, with the ultimate aim of improving patient outcomes and reducing medical error.
Limbs & Things have offices in the UK, US, Australia and Sweden, as well as partnerships with distributors worldwide.
For more information on Limbs & Things please contact Karen O'Conner at karen.oconner(at)limbsandthings(dot)com