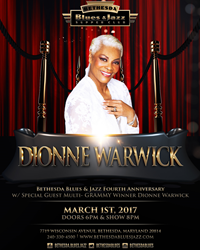 Bethesda, MD (PRWEB) January 09, 2017
Bethesda Blues & Jazz Supper Club is pleased to announce it's 4th Anniversary concert to be held on March 1st, 2017, featuring special guest Multi-GRAMMY Award Winner and Actress, Dionne Warwick. It will be an evening of celebration with an iconic artist, commemorating four years of outstanding entertainment in downtown Bethesda. Tickets are available online starting at $115.00 - $150.00. Doors open at 6:00pm and show time is 8:00pm. For tickets or general information, please visit http://www.bethesdabluesjazz.com or call 240.330.4500.
Scintillating, soothing and sensual best describes the familiar and legendary voice of five-time GRAMMY Award winning music legend DIONNE WARWICK, a cornerstone of American pop music and culture. During Warwick's renowned 50-year career she has established herself as an international music icon and live act. She has earned more than sixty charted hit songs, making her the second most charted female of all time, and sold over 100 million records worldwide. She began singing professionally in 1961 after being discovered by a young songwriting team Burt Bacharach and Hal David. Her first hit "Don't Make Me Over" came in 1962, which was immediately followed by a decade of more than 18 consecutive Top 100 singles. Ms. Warwick's classic cover of "That's What Friends are For" in 1985 became one of her most lauded hits and since then she continues to awe audiences with her distinctive voice.
Bethesda Blues and Jazz, housed in the historic 500-seat Bethesda Theater, is an intimate concert hall offering the best in live entertainment, food and drinks in the DMV. The venue has featured over 900 live acts during the last four years covering various genres including Jazz, Country, R&B, Blues, Comedy and an array of private events. Join us for a premier supper club experience to see your favorite musicians in an elegant and acoustically superb setting with access to great free parking. Come eat, drink and vibe at Bethesda Blues & Jazz 4th Anniversary Celebration with Dionne Warwick. Visit us online at http://BethesdaBluesJazz.com
For media inquiries and partnerships please contact:
Anshia B. Crooms, Marketing & Promotions Director
anshia(at)bethesdabluesjazz(dot)com or call (240) 330-3500 x. 106