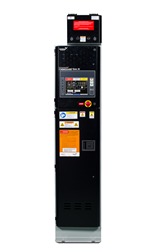 TEMPE, Ariz. (PRWEB) January 12, 2017
The Delivery Systems and Services Group (DS&S) of Versum Materials, Inc. (NYSE: VSM) has realized an important milestone: the sale and commissioning of its 200th CHEMGUARD® Gen III high purity, liquid delivery system since the product line launched in early 2016. The 200 units are now running in the latest high-volume semiconductor fabs globally.
Built on a legacy of more than 30 years of supplying advanced materials and delivery systems to the global semiconductor and electronics markets, Versum's DS&S Group continues to design and build safer, more reliable delivery equipment for high purity gas and liquid distribution.
Jeff Chung, DS&S Asia sales manager, said "the CHEMGUARD Gen III system has been very well received by all our major customers, especially with its new, built-in redundancy."
The CHEMGUARD product family was first launched in 1999 under the Schumacher brand. David Eshelman, product manager, explained, "Our customers' original requests for improved safety and uptime help create the CHEMGUARD system," he said. Eshelman explained that those requirements still exist today, but at each node the molecules and processes used have become much more technically challenging. "The specific needs of today's specialty, flammable or highly-energetic molecules have been addressed by the unique CHEMGUARD Gen III model designs," he said.
Capitalizing on its materials and delivery systems expertise, Versum Materials recently created an experienced, multi-disciplined team to review new molecules as they ramp and gain market acceptance. The team evaluates the molecule safety and process needs and helps speed time-to-market for new molecules and processes by having a delivery solution ready when technology ramps.
"When our team says 'go' we know that the molecule is 'CHEMGUARD Ready'," said Eshelman. "The next node is right around the corner. We want the market to know that the established CHEMGUARD system continues to advance to meet the demands of a changing marketplace."
For more information about Versum's CHEMGUARD® Gen III high purity, liquid delivery system or any of Versum's advanced materials, process materials or delivery systems, visit versummaterials.com or contact David Eshelman (David.Eshelman(at)versummaterials(dot)com; +1 (760) 929-6250) or Jeff Chung (Jeff.Chung(at)versummaterials(dot)com; +886 (3) 516-0100 x651)
About Versum Materials, Inc.
Versum Materials, Inc. (NYSE: VSM) (versummaterials.com) is a best-in-class electronic materials company providing high-purity chemicals and gases, delivery systems, services and materials expertise to meet the evolving needs of the global semiconductor, display and LED markets. Derived from the Latin word for "toward," the name "Versum" (pronounced ver-SOOM) communicates the company's deep commitment to helping customers move toward the future by collaborating, innovating and creating cutting-edge solutions.
A global leader in technology, quality, safety and reliability, Versum Materials is one of the world's largest suppliers of next generation CMP slurries, ultra-thin dielectric and metal film precursors, formulated cleans and etching products, and delivery equipment that has revolutionized the semiconductor industry. Versum Materials operated for more than three decades as a division of Air Products. An independent company since October 2016, Versum has annual sales of about US$1 billion, 1,900 employees and 10 major facilities in Asia and the North America. It is headquartered in Tempe, Ariz.
Note: This press release contains "forward-looking statements" within the meaning of the safe harbor provisions of the U.S. Private Securities Litigation Reform Act of 1995. Forward-looking statements can be identified by references to future periods, and include statements we make about our ability to meet the anticipated needs of our customers and the industries we serve, and the expected performance and scalability of our products in specific customer environments with differing manufacturing needs, the ability to align our resources to meet the demands of the industries we serve, our future sales, the success of our planned strategy of moving our capabilities closer to our customers, and our prospects following the spin-off. These forward-looking statements are based on management's reasonable expectations and assumptions as of the date of this release. Actual results and the outcomes of future events may differ materially from the those expressed or implied in the forward-looking statements because of a number of risks and uncertainties, including, without limitation, the general economic and business conditions that could decrease the demand for our goods and services; our concentrated customer base; our ability to continue technological innovation to meet the evolving needs of our customers; our substantial post-spin leverage; and other risk factors described in our filings with the Securities and Exchange Commission, including the amended Registration Statement on Form 10, and our Current Reports on Form 8-K filed since. Versum Materials assumes no obligation to update any forward-looking statements or information in this release.
# # #
Media Inquiries:
Michael Drabenstott, tel: (610) 417-0503; email: Mike.Drabenstott(at)versummaterials(dot)com
Investor Inquiries:
Nahla Azmy, tel: (610) 481-7461; email: Nahla.Azmy(at)versummaterials(dot)com