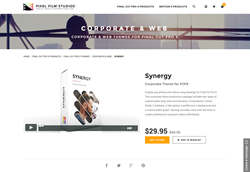 Synergy is a theme production package that includes two types of customizable drop zone environments, 4 transitions, 2 lower thirds and many more tools to create professional corporate videos
Aliso Viejo, California (PRWEB) January 08, 2017
"Synergy is a theme production package that includes two types of customizable drop zone environments, 4 transitions, 2 lower thirds and many more tools to create professional corporate videos," said Christina Austin - CEO of Pixel Film Studios.
Begin by taking a preset from the Generators browser and placing it into the FCPX timeline. Choose from either of the two environment types. The custom camera environment lets users set start and end orientations so that users can create unique camera movements. The camera presets environment gives users on-screen controls to position scene elements anywhere and a drop-down menu that includes a variety of camera movement options.
Synergy contains unique title elements designed for Final Cut Pro X like the title opener, profile tool, 2 lower thirds and 2 sidebars. All of these title tools have a variety of professional uses and come together to form the ultimate package for adding stylized text to videos.
Wipe from one shot to the next using one of Synergy's 4 transitions. Synergy's 4 transitions include presets with 2,4,6 and 8 shapes. The shapes wipe across the screen and the next scene follows. Users can adjust colors, angles and more using controls in the inspector window.
Synergy included additional generator presets like the Graph and Background Key. The background key is perfect for displaying text and other media while the included bar graph tool is a great tool for displaying statistical information. Both tools comes with a variety of controls for customization.
Established in 2006, Aliso Viejo, California-based Pixel Film Studios is an innovative developer of visual effects tools for the post-production and broadcast community. Their products are integrated with popular non-linear editing and compositing products from Apple FCPX. Apple, the Apple logo, Mac OS X, and Macintosh are registered trademarks of Apple Inc. in the U.S. and/or other countries. All other trademarks and trade names are the property of their respective owners.