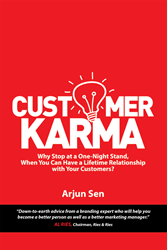 (PRWEB) January 09, 2017
Good karma is the catalyst in long-term relationships and loyalty between businesses and customers in Arjun Sen's new business book "Customer Karma." Sen's extensive corporate experience is reflected in his success and insight into exceptional customer service.
As the first book to incorporate the principles of karma when running a business and serving customers, Sen applies the lessons he learned in childhood about karma to the business world. He reveals the karmic cause and effect in business customer relationships as he outlines a new framework for shifting business customer loyalty from one-night stands to long-term relationships.
"Good karma is cultivated by heart-felt good action," said Sen. "When companies invest in their customers, they are rewarded with good karma in the form of customer loyalty and abundant returns."
Sen explains that businesses need a fundamental change in their current approach to building customer loyalty. In the book, he challenges businesses to know their customers on a personal level by engaging with them in a meaningful way.
"Customer Karma" is a must-read for any business that wants to attract, serve, and retain life-long customers.
"Customer Karma"
By Arjun Sen
ISBN: 978-1-53200-522-0 (softcover); 978-1-53200-524-4 (hardcover);
978-1-53200-523-7 (eBook)
Available at the Amazon, Barnes & Noble, and iUniverse
About the author
Arjun Sen is president and founder of ZenMango, providing resources for businesses and professionals looking to expand their business and grow their brands. With over 20 years of experience in the corporate world, he inspires audiences by demystifying the concept of the customer relationship. Sen received his MBA from Brigham Young University and his bachelor's degree in aeronautical engineering from the Indian Institute of Technology, Kharagpur, India. To learn more, visit http://www.customerkarma.org.
###
Review Copies & Interview Requests:
LAVIDGE – Phoenix
Bryan Beach
480-998-2600 x 510
bbeach(at)lavidge(dot)com
General Inquiries:
LAVIDGE – Phoenix
Chris Pena
480-998-2600 x 519
cpena(at)lavidge(dot)com