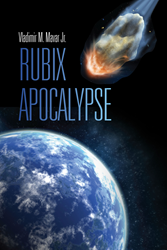 Biloxi, Miss. (PRWEB) January 09, 2017
Time travel, the human genome, war, disaster, and the successes or failings from technological advancements all intermingle in Vladimir M. Mavar Jr's debut science-fiction novel "Rubix Apocalypse."
Alen Marinkovic is a new hire at EGSI Super Atom Smasher who, as a technician, has access to much of the equipment at the world's largest particle accelerator. With the help of his co-worker, Petra, they devise a plan to travel back in time by exploiting virtual genomics and the human genome. This exposes several tragedies and flaws in technology and humanity itself.
"The book is unique in that it presents an unconventional point of view," said Mavar. "It mixes hopes, dreams, and fantasies that I had as a teenager, some of which have stayed with me to this very day."
"Rubix Apocalypse" tells an intricate story of the impact that science and technology can have on individual lives and humanity. With the risks and complexities associated with time travel, the novel also presents aspects of surviving real-world situations and speculated outcomes.
"Rubix Apocalypse"
By Vladimir Mavar
ISBN: 978-1-46285-543-8 (softcover); 978-1-47717-984-0 (eBook)
Available on Amazon, Barnes & Noble, and Xlibris
About the author
Born on the Gulf Coast in southern Mississippi, Vladimir M. Mavar Jr. developed an interest in science and literature early on, later studying business and literature abroad for several years while in the former Yugoslav republic of Croatia, now the Republic of Croatia. He is a part-time translator of Croatian & English, as well as an amateur musician. His debut novel is based in part on a story of personal loss, tragedy, as well as resilience and hope for the future. Mavar lives in Biloxi, Mississippi with his dog Jane and enjoys the opportunity to entertain and express himself in novel ways. He is regularly available for book signings and poetry readings.
###
Review Copies & Interview Requests:
LAVIDGE – Phoenix
Bryan Beach
480-998-2600 x 510
bbeach(at)lavidge(dot)com
General Inquiries:
LAVIDGE – Phoenix
Kalin Batts
480-998-2600 x 524
kbatts(at)lavidge(dot)com