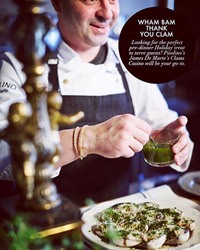 Chicago's food scene is known around the world, with more than 7,300 restaurants fulfilling every culinary taste imaginable
Chicago, IL (PRWEB) January 16, 2017
Today, food and hotel critic Dmitry Richie announced his 2017 selection of Chicago's top dining spots. Billed as his "3 Must-Go Chicago Restaurants," the list includes some of the Windy City's favorite new eateries. All three restaurants earning a spot on Richie's list combine outstanding service and atmosphere with creative, satisfying dishes.
"Chicago's food scene is known around the world, with more than 7,300 restaurants fulfilling every culinary taste imaginable," Richie said. "With so many well-regarded restaurants in town, though, it can be tough to know where to eat while visiting the world-class city. I started keeping this list of favorite restaurants so my clients could be assured of finding high-quality meals in Chicago. This practice culminated in my now-annual list."
In selecting restaurants for this honor, Richie placed emphasis on restaurants that excel in providing excellent food in a casual, accessible atmosphere. Also of value was the restaurant's presentation, friendly staff and moderate pricing. "While some restaurants on the list may be considered haute cuisine because of their Michelin-star status, my criteria was more about accessibility, familiarity, service and atmosphere," Richie said. "As a result, readers won't find Chicago's most famous restaurants on the list. They will find, however, superb restaurants that locals frequent."
Topping this year's list is Pisolino, one of Chicago's best-kept secrets. This cozy Italian caffè is located in charming Avondale on Chicago's northwest side. Once known as a Polish neighborhood, Avondale is now a melting pot of various cultures and culinary traditions. Pisolino stands out from the neighborhood's abundant range of restaurants for its charming atmosphere, attentive service and scrumptious food.
Locals from all over Chicago make Pisolino a part of their Saturday morning routine, drawn to the restaurant's selection of sweet and savory Italian pastries. The lunch and dinner menu is equally appealing to diners with a diverse offering of home-style antipasti, pastas and panini. The restaurant also serves hearty Pugliese-style pizzas rich with mozzarella, tomatoes and onions on a crispy thin crust. Meals are affordably priced from $8 to about $15.
Pisolino is the brainchild of Chef James De Marte and his wife, event planner Rachel De Marte. De Marte has extensive culinary experience, including a 10-year stint cooking and creating dishes in Italy. The pair's experience and service-oriented approach is evident in every inch of Pisolino's service. Richie noted, "Dining in the restaurant is comfortable and welcoming. Counter service speeds things up for those on a short lunch break, and there's even delivery for those who can't break away from work. For all of its many delights, Pisolino easily earned the top spot on this year's list."
Earning Richie's second spot on the 2017 list of favorite Chicago restaurants is GT Prime. "GT Prime is one of Chicago's best steakhouses," Richie noted. "It also has a chic, modern edge that is a welcome departure from the traditional stuffy steakhouse."
Diners visiting GT Prime choose from a diverse menu that includes shareable mixed grill platters, fresh seafood and a variety of steak offerings. It also gives diners small plate options. Ingredients are sourced from local farms, impeccably selected by Executive Chef Giuseppe Tentori. An extensive wine menu and signature cocktails enhance the restaurant's savory selections.
GT Prime is the sister restaurant to Chicago's well-regarded GT Fish & Oyster. It is lauded by a variety of critics, and it earned a place on Eater's "Hottest Restaurants in Chicago Right Now" list. Chef Tentori is also highly acclaimed, earning Food & Wine's "Best New Chef" designation in 2008.
Rounding out Richie's top Chicago restaurants is the elegant Oriole restaurant. Oriole balances its friendly atmosphere with its impeccable cuisine, presentation and atmosphere, earning two Michelin stars.
"Oriole is a fine-dining West Loop favorite, and it's well on its way to becoming a local landmark," Richie remarked. "It's stylish, intimate and modern, yet it's cozy and welcoming too. It's the place to go for a celebration, to make an impression or to simply enjoy innovative, flavorful bites."
The restaurant features a New American tasting menu featuring dishes ranging from caviar and scallops to Wagyu and lamb belly. Diners finish off their meal with four desserts, including lemon tea sorbet, pistachio gelato, croissants and mignardises.
Since opening in March 2016, the restaurant has garnered a host of accolades. It was named one of the "21 Best New Restaurants in America" and "Chicago's Best Bar and Restaurant."
"This year's list of top Chicago restaurants covers a wide range of palates and dining styles, and it's my hope that it encourages locals and visitors to get out and enjoy the city's abundant, satisfying restaurants," Richie said.