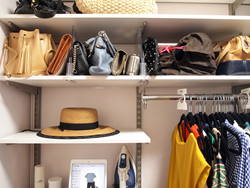 Imagine selecting your outfit on a screen and then finding the clothing items in just a few seconds right inside your real closet.
Princeton, NJ (PRWEB) January 10, 2017
Left Brain / Right Brain, LLC announces a collaboration with Organized Living to create the ultimate dream closet that maximizes space and uses smart closet technology to help women get dressed faster. They showed off how to get the most out of any walk-in closet with a makeover of Stylebook co-founder, Jess Atkins's closet. The ultra-organized 6' x 7' walk-in closet features a virtual outfit station, three closet rods, a shoe wall, dedicated spaces for jeans, accessories and more.
"Imagine selecting your outfit on a screen and then finding the clothing items in just a few seconds right inside your real closet. That's what I do every morning - thanks to the space that we created with Organized Living" said Jessica Atkins, co-creator of Stylebook. The iPad inside Jess's closet runs Stylebook, which contains a catalog of all her real clothing and favorite outfits, which can be browsed by season or searched by keyword. Each morning, she chooses what she wants to wear and then finds exactly what she needs in her neatly labeled closet. The app even has a feature called Outfit Shuffle, which can generate outfits based on categories she selects. "A lot of people organize their closet, but it winds up descending back into chaos on mornings when they rummage through the racks to find something to wear. If they use Stylebook to select an outfit instead, there's no need to dig through the closet just for outfit ideas. They can experiment with their clothes on the screen - instead of on the floor. Plus, you can get dressed a lot faster!"
Jess Atkins created 11 guidelines outlining which organizational tools have the most impact when it comes to efficiently storing clothes and accessories. These tips on labelling, clothing racks, folding clothes, lighting and more are designed to help customers turn their walk-in closets into personal boutiques. The full guide, along with images of the space created by Organized Living, can be seen at http://www.stylebookapp.com/stories/dream_closet.html
In addition to their work on the dream closet project, Organized Living also shares their closet organization tips inside the Stylebook app, so users can receive ongoing tips to keep their clothes and accessories neatly organized and beautiful. These tips are in the form of blog posts and videos created by Organized Living experts Amanda LeBlanc and Theresa Finnigin.
Download Stylebook on the App Store
Pricing and Availability:
Stylebook is $3.99 USD
Currently available for iPhone and iPad
Stylebook Has Been Featured By The New York Times, The Wall Street Journal, The Los Angeles Times, Vogue.com, Real Simple, InStyle, Refinery29, and many more
About Left Brain / Right Brain, LLC:
Left Brain / Right Brain, LLC is a Princeton, NJ-based software company co-founded by programmer Bill Atkins and Jessica Atkins, a former fashion publishing assistant with five years of industry experience.