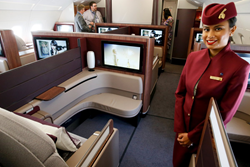 The business class passenger market is highly competitive, and we're delighted that the airlines continue to innovate their provisions
Chicago, IL (PRWEB) January 10, 2017
Today, IFlyFirstClass's travel experts announced the company's selection of the top five business class cabins for 2017. The business class providers on this year's list provide extensive amenities, attentive service and well-planned seat configurations. Most of the airlines earning this year's distinction also offer unique or innovative services and accommodations.
"IFlyFirstClass built a reputation for providing travel excellence, and it's important that we help our clients find the flights that best suit their needs," said Julia Graft, public relations director for IFlyFirstClass. "To aid this process, we constantly evaluate the service our clients receive from the airlines and rate the luxuriousness of their first and business class cabins. The result of our evaluation is our annual list recognizing air carriers' best practices."
IFlyFirstClass recognizes the five top business class cabins equally, with each airline offering its own special perks. "In the past, we have ranked these selections No. 1 through 5, but this year's selections offer their own unique features," said Graft. "They're all equally superb in their own way, and we feel confident recommending them to our travelers based on their own individual travel needs."
One of the most exciting new offerings is Delta Airlines' Delta One business class cabins. These cabins consist entirely of business class suites. Delta is the first airline in the world to offer this level of privacy in a business class cabin. A sliding pocket door gives travelers entry into their own private in-air oasis. Seats recline to a full-flat position, extending to 81 inches to accommodate patrons of all heights. The all-suite cabins also feature high-resolution entertainment screens, ample electric power sources and five-course meals. Transpacific flights will offer Tumi amenity kits, Kiehl toiletries and Westin bedding. "We're excited by the privacy and amenities provided by Delta One suites," Graft said. "Sadly, our travelers will have to wait a bit to enjoy the features since they won't come online until the fall of 2017."
Perennial favorite Qatar Airlines continues to offer excellent business class cabins and service. Known for its attention to detail, Qatar's business class travelers enjoy seats that recline to a fully flat position. On-demand dining accommodates all manner of personal schedules and nutrition needs, and the entertainment system is generous. Passengers can refresh with their amenity kits filled with Giorgio Armani toiletries and accessories.
Renowned for its unparalleled service, Singapore Airlines also makes the IFlyFirstClass list for its second consecutive year. Singapore's business class cabins are known for their wide seats that recline flat to a 78-inch bed. The newest business class seats go a step beyond typical seating, offering two intermediate seating positions that promote back comfort. The company is also known for its superior cuisine and convenient "Book the Cook" service.
Etihad's business class cabins remain on IFlyFirstClass' 2017 list, a testament to the enduring quality of the airlines' business class service. The air carrier continues to elevate its service with each iteration of business class cabin. The newest design features a seat that lies fully flat and massages its occupants. The company also removes some of the isolation that can make travel difficult by providing an in-air business class lounge. The "Lobby" lounge is the perfect spot to socialize with other business class passengers while enjoying a drink or a snack.
American Airlines rounds out the list of top business class cabins with its latest design, the Super Diamond. When reclined flat, Super Diamond seats extend to 79 inches long so even tall passengers can enjoy comfortable rest on long flights. Its menu offerings are equally capacious, created by acclaimed chefs. In addition to comfort, special thought was given to entertainment on American's new Super Diamond business class cabins. Passengers enjoy 18-inch entertainment screens with access to 300 movies.
"The business class passenger market is highly competitive, and we're delighted that the airlines continue to innovate their provisions," Graft said. "Passengers benefit with this increasing attention to service and accommodation."