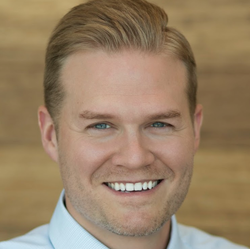 It is critical that leaders come together and align towards a shared vision. Fight for alignment.
Orem, Utah (PRWEB) January 06, 2017
John Pope, CEO and co-founder of Jive Communications, shared Jive's startup story with John Lee Dumas of EOFire (Entrepreneur On Fire). EOFire is a podcast focused on startups, and was recently awarded Best of iTunes.
Pope began the interview by confirming his passion for entrepreneurialism. "There is no better profession in the world than to be able to control your own destiny," he said.
Pope said Jive founders have "some of the same battle scars" as other EOFire guests. He attributes their success to family support, the ability to diversify income streams, and strategic alignment.
Pope advocated execution over hype, leveraging individual and collective strengths, and bootstrapping. "Jive didn't launch with funding and fanfare like many high-profile software startups. Jive's story involves blood, sweat, and tears."
Starting a business with little-to-no outside capital is a common challenge for entrepreneurs. Pope provided insight on how he bootstrapped an alarm company and an insurance firm, and how that success prepared him for founding and growing Jive.
The biggest lesson Pope learned through Jive was to be prepared for market and government changes. "You never know how markets are going shift. Constantly think of other ways to diversify." He also recommended focusing on verticals and maintaining multiple streams of income.
Pope then stressed unity of leadership. "It's critical that leaders can come together and align towards a shared vision. Fight for alignment. Meetings can be grueling, but are vital. You have to be aligned from the top, regardless of business size. Come together and discuss the most strategic items. Don't put it off. Don't wait until something escalates to the top."
Pope urged business leaders to take care of the highest priority issues first, be prepared to make sacrifices, and not go home until their goals are accomplished.
To listen to the podcast, click here.
About Jive Communications
Jive Communications, Inc. provides enterprise-grade Hosted VoIP and Unified Communications to businesses and institutions across the globe. Jive's hosted services include Jive Voice (Hosted PBX), Jive Contact Center, and Jive Video, which all run on Jive Cloud, a distributed platform built on open industry standards. Jive Cloud has been purpose-built to deliver the most reliable, powerful and economical hosted communication services available to the enterprise and public sector markets. Learn more at jive.com/products.