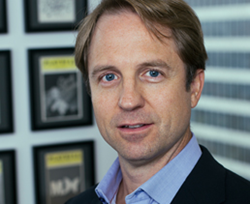 Sackman stated, "Jeff's well-earned promotion supports our goal to become the leading consulting firm utilizing integrated data analytics in the market research industry."
Los Angeles, CA (PRWEB) January 09, 2017
LRW (Lieberman Research Worldwide) announced today that Jeff Reynolds has been promoted to President and Chief Operating Officer of SWHoldings, the holding company for LRW businesses. Reynolds will oversee all LRW-related businesses on a day-to-day basis and will continue to report to long-time Chairman and CEO Dave Sackman. LRW also announced that Sandy Wax has joined LRW as Executive Vice President and COO reporting to Reynolds.
Sackman stated, "Jeff's well-earned promotion supports our goal to become the leading consulting firm utilizing integrated data analytics in the market research industry. Our vision includes rapid organic growth along with carefully targeted strategic acquisition, and Jeff's expanded role will deliver the collaboration and alignment needed to bring our brands and a diversity of data streams together to provide greater action-oriented recommendations for our clients."
Reynolds joined LRW in 2003 as a Research Director and quickly moved through the ranks to Vice President, General Manager and ultimately to President of LRW in 2010. Under Jeff's leadership, LRW achieved yearly double digit sales growth. His focus on innovation resulted in LRW being recognized as one of the most innovative research companies (#2 in the US and #8 in the world, respectively.)
Wax will take the helm of the some of the key operations and administrative teams at LRW and guide operations integration with future acquisitions. Wax most recently served as President of Sprout, NBCUniversal's 24-hour kids channel, where she oversaw strategy and day-to-day operations. Prior to Sprout, Wax held leadership positions at Disney including Senior Vice President Brand Strategy and Research. Wax also spent seven years as Vice President of Research and Planning at Discovery Communications, Inc.
Jeff Reynolds said, "Sandy is a proven leader that will add strength to our management team and bring fresh perspective to our business. Most importantly, as a consumer of consumer insights throughout her professional career, she will have a sharp perspective on helping to make sure LRW remains focused on driving business impact for our clients, which is at the core of our strategy."
About LRW (Lieberman Research Worldwide):
LRW is recognized as one of ten most innovative firms in its industry and is one of the 25 largest marketing research firms in the world. Since 1973, LRW has been providing its data-driven consulting services to management teams of top global brands on issues such as strategy, branding, communications, new product development, and customer experience. LRW leverages its unique "so what?®" consulting model, sophisticated marketing and data science capabilities and recent innovations in Pragmatic Brain Science® to deliver real business impact for its clients. LRW utilizes survey research and data from a wide variety of sources, such as social media data, customer data, and other forms of Big Data in their engagements. LRW is headquartered in Los Angeles with offices in London, New York, Philadelphia, Chicago, and Orange County.