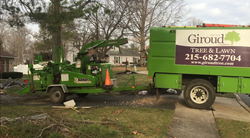 Removing deadwood is important to keep your property, and more importantly, your family safe.
Huntingdon Valley, PA (PRWEB) January 08, 2017
Deadwood was at the center of Giroud Tree and Lawn's agenda in a video and full length blog article revolving around the dangers of deadwood in trees. According to the company, deadwood is a dead branch section of branch, still connected to the tree. Homeowners can identify deadwood by looking for areas of a tree that have little or no foliage. Once the leaves are off the tree, an ISA Certified Arborist will be able to detect other warning signs.
The video features Giroud Crew Leader, Billy Santry, who has been with the company for over 27 years. With him are Tree Climbers, Raffy Diaz and Jim Fairfield. In it, the crew works together to remove deadwood safely and efficiently.
"The point of the article and video is to make people aware of the dangers that lurk right in their own backyard," says ISA Certified Arborist and Giroud Tree and Lawn President, Lou Giroud. "It's pretty easy for clients to spot deadwood when there are bare spots on their trees, but once winter hits, it's a whole new ballgame. It takes a trained eye to catch dangerous limbs, making it important to schedule an appointment with a professional."
The blog article explains a variety of reasons why removing deadwood from healthy trees is important:
1. Liability – Deadwood will fall at some point, leaving anything in the falling branch's path susceptible to being damaged or destroyed. This includes lawn damage, property damage, and even personal injury.
2. Declining Tree Health – Once deadwood falls from the tree, the internal structure of the tree is exposed, also known as the heartwood. This exposed heartwood may become susceptible to disease or a number of invasive insects. Giroud claims that once infested with disease or insects, the tree will struggle to stay healthy, but without the proper tree care it may die, leading to a costly tree removal.
Anyone curious about deadwood removal or wanting to set up a free consultation should visit Giroud Tree and Lawn's website or call 215-682-7704.
About Giroud Tree and Lawn
Giroud Tree and Lawn specializes in tree service, tree removal and lawn care programs that make customers love doing business with the company since 1974. Serving Bucks, Montgomery and Philadelphia Counties, the company offers professional tree and lawn evaluation, tree pruning, tree removal, insect and disease control, fertilizing, stump removal and traditional and 100% organic lawn programs to keep lawns healthy and green. Giroud Arborists are certified by the International Society of Arboriculture (ISA) and have the knowledge and experience required to properly diagnose, treat and maintain trees and lawn health. The company is Accredited by the Better Business Bureau and has been awarded the Angie's List Super Service Award® every year since 2005. The "Giroud Treework for Charity" program donates free tree care services to parks, historical sites and other non-profit organizations located in the Company's service area. For more information, visit the company website at http://www.giroudtree.com or call 215-682-7704.