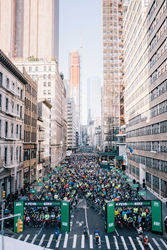 After 40 years, it remains the best way for anyone to experience the streets of the Big Apple
New York, NY (PRWEB) January 06, 2017
This year marks the 40th anniversary of an event that began as an audacious plan for 200 bicycle club members to take 50 high school students on a ride across New York City. It has since grown to become one of the biggest bike rides in the world, and one that has recently earned Gold-level certification from the Council for Responsible Sport.
On May 7, 32,000 cyclists will come from every state in the nation and dozens of countries around the world to ride 40 miles through the five boroughs of New York City on car-free streets, including over the Queensboro and Verrazano-Narrows Bridges. After 40 years, it remains the best way for anyone—New Yorkers and visitors alike—to experience the streets of the Big Apple.
Using proceeds from the Tour, Bike New York has, over the years, taught bike skills to tens of thousands of kids and adults throughout the five boroughs. The nonprofit's free bike education program is the largest of its kind in the country—every year, more than 17,000 kids and adults learn bike skills.
2017 is shaping up to be a big year for Bike New York; less than two months ago, the nonprofit launched its first membership program, and more recently announced that it has merged with Recycle-A-Bicycle, another leading bike education nonprofit, to further bike education in New York City. "With bike lane and bike share networks that continue to expand and ridership numbers that continue to grow, there's never been a better time to ride a bike in New York City," said Ken Podziba, President/CEO of Bike New York. "That said, some folks never had the chance to learn how to ride, and there are others who need to improve their skills—and the Tour enables us to provide classes and programs to New Yorkers from all walks of life throughout the five boroughs for free."
Media participation/coverage of the Tour itself is encouraged; interested journalists are invited to apply at http://www.bike.nyc/events/td-five-boro-bike-tour/media.
Interviews and high-res photography available upon request.
_______________________________________
About Bike New York
Bike New York is 5O1(c)(3) nonprofit that provides free bike education programs throughout the five boroughs. In 2O16 alone, they taught bike skills to more than 17,OOO kids and adults. Funding for these programs comes from the organization's numerous annual events, including the TD Five Boro Bike Tour, Bike Expo New York, and smaller regional and local rides. http://www.bike.nyc