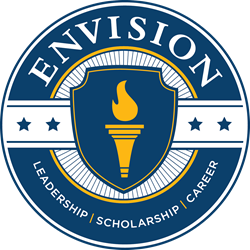 Our mission at Envision is to help students turn their career and life aspirations into reality while positively impacting the world around them.
Vienna, Va (PRWEB) January 09, 2017
Envision, a leading experiential education organization, today announced program details for its 9th Presidential Inauguration Leadership Summit, taking place January 18-22, 2017 in Washington DC. At the Summit, middle, high-school and college students from across the United States will gather to participate in Delegations for Change, an experiential education component in which Summit Scholars have an opportunity to hear from subject matter experts and work together in small-group breakout delegations to generate solutions to real-world challenges that the next president and their generation will face.
During the Delegations for Change portion of the Summit, Scholars will tackle one-of-six topics that were selected via a crowd-sourced survey of 1,700 student respondees, who were asked to choose which topics would impact them most in their future. The final topics are in the areas of healthcare, technology, the environment, foreign relations, human capital and women in leadership.
"The Presidential Inauguration Leadership Summit is specifically designed to empower next-generation leaders to engage in the political process and gain a deeper understanding to evaluate and develop solutions for some of the nation's most important issues," said Envision CEO Duncan Young. "This election cycle has been one of the most divisive we've seen in recent history, yet we're seeing students from all over the country, with different views and life experiences, wanting to collaborate and work together to solve issues that their generation will face in later years."
The Delegations for Change programming is built on Envision's experiential education philosophy, which engages, equips, and empowers students to seize their future. First delegations will receive an academic presentation, which includes lecture and an opportunity to learn about the topic or issue. Following the academic presentation, delegations will enter into the inquiry-based, hands-on learning period. Delegations will spend the majority of their time during this project-based learning phase, where each delegation will discuss their chosen issue and create solutions that they will present during the third and final step of the Delegations for Change program.
After delegations have presented their solutions, winning Delegations will be chosen at the middle-school (1 award for each of the 6 topics), high-school (2 awards for each of the 6 topics) and college levels (1st, 2nd and 3rd place awards to a group or individual) and receive grants to support their future. All of the Summit Solutions will be compiled in a Statement Paper, which will be published and sent to the new President of the United States and to Congress on behalf of next generation leaders.
"Our mission at Envision is to help students turn their career and life aspirations into reality while positively impacting the world around them," said Envision's Chief Academic Office Andrew Potter. "In a period defined by division, our Delegations for Change curriculum empower our future civic leaders to communicate, think critically, collaborate and ultimately create solutions to real world issues that are facing their generation and the world."
In addition to the Delegations for Change work, Summit Scholars will experience history as they witness the 58th Presidential Inauguration on the National Mall, and even attend their own Inaugural gala, connecting with fellow civic-minded, high-aspiring students. The 5-day summit itinerary provides the opportunity for all scholars to hear from and interact with world-renowned speakers General Colin Powell, Spike Lee, Nobel Peace Prize Laureate Malala Yousafzai, Ziauddin Yousafzai, Governor Martin O'Malley, Carly Fiorina, Ann Compton, Paul Begala and Tucker Carlson.
Throughout this election cycle, Envision has partnered with Discovery Education, the global leader in digital content and professional development for K-12 classrooms, to empower teachers and students nationwide to discuss important civic issues with expertly-curated digital content, curriculum, and live experiences through the Chase the Race in School program. Chase the Race in School will continue to inspire next generation leaders with a dynamic youth-driven innovator panel discussion to be held live during the Presidential Inauguration Leadership Summit.
About The Presidential Inauguration Leadership Summit
The Presidential Inauguration Leadership Summit first launched in 1985 during the second inauguration of Ronald Reagan when a Connecticut educator saw an opportunity to make the world her classroom. With the help of a congressional staff member, she arranged a trip for her students to visit the nation's capital. The excursion allowed Student Scholars an enriching opportunity to build a deeper relationship with the world around them and also help realize the power of their potential as future civic leaders. The initial Summit was deemed a huge success and became the foundation for Envision and the prototype for following Presidential Inauguration Leadership Summits, including the inaugurations of George H. W. Bush, Bill Clinton, George W. Bush, and Barack Obama.
About Envision
Envision helps students turn their career and life aspirations into reality. The Envision family of programs (http://www.envisionexperience.com) enable students of all ages to explore their interests and gain learning experience beyond the classroom. Since 1985, Envision programs have served more than 800,000 students from more than 145 countries, with programs designed to connect high aspiring students with the leadership, scholarship, and career skills needed to success in today's competitive college and career landscape; providing unique, real world experiences that enable students to discover their passion, try out a future career, and positively impact the world around them.