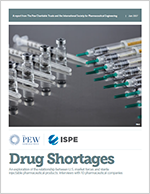 This collaboration examines market forces and allows ISPE to share unique, valuable data with our members and the broader pharmaceutical industry.
Bethesda, Maryland USA (PRWEB) January 10, 2017
Working with The Pew Charitable Trusts (Pew), the International Society for Pharmaceutical Engineering (ISPE) today released the results of a joint study, Drug Shortages: An Exploration of the Relationship between U.S. Market Forces and Sterile Injectable Pharmaceutical Products. The Pew/ISPE study examined the relationship between manufacturing, supply chain and US market forces and how they contribute to the shortage of sterile injectable products. The study also assessed the elements that influenced the decisions companies made to reduce future shortages
"This collaboration examines market forces and allows ISPE to share unique, valuable data with our members and the broader pharmaceutical industry," said ISPE CEO and President John E. Bournas.
The Pew/ISPE study focuses on sterile injectable products, which are among the most vulnerable to supply disruption and some of the most technically challenging products to manufacture. The joint study was conducted over a six-month period with 50 executives from ten pharmaceutical companies in the United States. To maintain confidentially PricewaterhouseCoopers was engaged to conduct the interviews with the participating companies and aggregate the anonymized data for analysis.
"Shortages affect patients' ability to access essential medications," said Elizabeth Jungman, director of public health programs at The Pew Charitable Trusts. "This study is an important step in uncovering the complex factors that cause shortages in order to prevent them and protect patients in the future."
Findings Support ISPE Research
Among the elements identified by the ten participating pharmaceutical companies as the reasons for shortages are market withdrawals, ineffective supply chain design, few purchaser-manufacturer incentives, limited market insight into future demand, and regulatory expectations. In addition to improvements in product and manufacturing quality and current Good Manufacturing Practice (cGMP) compliance, the report concludes that drug shortages could be reduced with improvements in internal-demand-forecasting abilities; overall supply chain maturity; and the relationships between a manufacturer, a provider, and regulators.
The Pew/ISPE study's key findings are:

Product supply chains are increasingly complex and need strengthening. Instead of a uniformly strategic approach to the portfolio, a product by product approach is often used although patient needs are generally prioritized.
Limited incentives inhibit the ability to mitigate shortages, deterring companies from entering a market to resolve a shortage issue or build the systems needed to prevent shortages.
Inadequate forecasting mechanisms are inhibiting investments to mitigate or prevent shortages. Companies worry that their inability to reliably predict the economic returns for investments in new capacity may result in financial losses, especially for legacy products with low volumes and low margins.
Perceived regulatory challenges to expanding or updating capacity are limiting investments.
"These findings are consistent with ISPE's 2013 drug shortages survey," stated Bournas. "However, market forces are also contributing to drug shortages as companies wrestle with investment decisions with uncertain regulatory or economic outcomes." The Pew/ISPE study makes several recommendations for industry in this regard:
Develop a collaborative approach to improve market forecasts.
Establish or enhance incentives between purchasers and manufacturer.
Strive for further collaboration opportunities with regulators, for example identifying a simplified process that enables a more effective way to update market authorizations for legacy products.
Develop systems to proactively identify and resolve quality issues across increasingly complex supply chains.
Improve understanding of the risks across the supply chain.
ISPE has been conducting research and collecting data on global drug shortages since 2011. Its 2013 Survey on the Root Causes of Drug Shortages found that issues within the quality systems of manufacturing were identified as the leading cause of drug shortages. ISPE subsequently published the ISPE Drug Shortages Prevention Plan (2014) and the ISPE Drug Shortage Assessment and Prevention Tool(2015).
As ISPE moves forward sharing the survey results within industry, it will assess whether follow-up surveys will be required, or scope broadened to include other products and geographies.
About ISPE
The International Society for Pharmaceutical Engineering (ISPE) is the world's largest not-for-profit association serving its members through leading scientific, technical, and regulatory advancement across the entire pharmaceutical lifecycle. The more than 18,000 members of ISPE are building solutions in the development and manufacture of safe, effective pharmaceutical and biologic medicines, and medical delivery devices in more than 90 countries around the world. Founded in 1980, ISPE has its worldwide headquarters in Bethesda, Maryland, USA, and an operations and training center in Tampa, Florida, USA. Visit http://www.ISPE.org for more information.