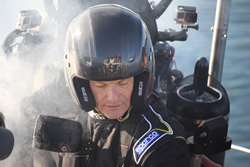 What does it feel like to fly a jetpack? It is an amazing feeling of freedom and excitement! - David Mayman, CEO & Test Pilot
Van Nuys, CA (PRWEB) January 09, 2017
Jetpack Aviation, the company which created the only true personal jetpack, has selected the winner of their equity crowdfunding Jetpack Pilot contest. Mischa Pollack, the popular hi-tech video blogger will go down in the record books as the world's first civilian to buckle into a self-contained twin-turbine jetpack, hit the throttle, and soar into the sky.
Company CEO and Test Pilot David Mayman announced the winner in a three minute video featuring some of the most thrilling clips from their recent Jetpack World Tour including a breath taking flight around the Statue of Liberty.
Said Mayman, "Jetpacks are the ultimate statement of personal freedom. We see a future where they are available to everyone, so we launched a crowdfunding campaign to let regular folks be a part of aviation future".
Mischa Pollack, a self described aviation fanatic, is no stranger to jetpacks. He has wanted to fly one for as long has he can remember. He even made a video of the company's most recent flight in Long Beach, CA. "It is a dream come true", said Pollack upon learning he was the contest winner. "Not only is this one of the most amazing inventions I have ever seen, but to be the first 'regular guy' pilot blows my mind. I am (almost) speechless."
Pollack will receive jetpack flight lessons at the company's training facility in southern California.
JetPack Aviation is a leader in the development of personal VTOL (vertical take off and landing) transportation and is currently working on vehicles for commuters, first responders, and search/rescue applications.
To learn more about JetPack Aviation's equity crowd funding program please visit our StartEngine campaign page.