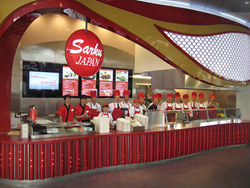 Everyone I've worked with at DTT really cares about our brand and is extremely motivated to develop tools best suited for our enterprise.
Las Vegas, NV (PRWEB) January 10, 2017
Los Angeles, CA | DTT announces today an exciting partnership development with Sarku Japan, one of the largest Japanese QSR operators in the United States. At the close of 2016, the brand signed a 5-year renewal agreement with DTT, confirming an extension of the relationship until 2022 and giving Sarku Decade Partner status. The relationship between the two companies initially began in 2012, when Sarku Japan selected DTT as their preferred video surveillance and loss prevention vendor for all corporate and franchised stores after a two-location pilot.
DTT has included additional loss prevention service capabilities with this contract renewal. In an effort to mitigate labor fraud, DTT technology experts are able to archive time clock video to the Company's off-site storage service (OSS). OSS is designed to capture and archive video for up to 90 days in case of a stolen or damaged DVR, ensuring operators can retain a backup copy of footage. With Sarku's customized solution, OSS will allow stores to archive time clock video for a period of five years, enabling long-term tracking of any possible issues like ghosting and buddy punching.
"We really value DTT as a partner, especially because of their sophisticated technology and unparalleled customer service," says Robert Coon, Director of Risk Management for Sarku Japan. "Everyone I've worked with at DTT really cares about our brand and is extremely motivated to develop tools best suited for our enterprise as well as the restaurant industry as a whole. I think we've also benefitted from my position on DTT's Steering Committee, where I'm able to discuss my favorite features, best practices, and suggested system enhancements with DTT executives as well as other DTT restaurant and retail customers."
"We're thrilled to have such a longstanding relationship with Sarku and are excited about these added improvements to the brand's experience with DTT," adds Kim Helms, DTT Vice President of National Accounts. "The renewal agreement really speaks volumes about who we are as a company as well as Sarku Japan's commitment to our products and services. I have truly enjoyed working with Robert and the entire Sarku team thus far, and hope to continue reinforcing their extremely positive perception of DTT over the next several years."
About DTT
Headquartered in Las Vegas, Nevada, DTT provides digital video surveillance solutions to the hospitality and specialty retail industries. DTT was founded in 1999 by Sam Naficy, leveraging the power of emerging digital technology to support the needs of a broad base of clientele. Since first launched, DTT has equipped, serviced and supported more than 35,000 clients. Every day, software provided by DTT protects trillions of dollars in assets and oversees nearly 2 million employees. Some of the world's most popular and respected restaurant brands use DTT including McDonald's, SUBWAY®, Dairy Queen, Burger King, Dunkin Brands, Taco Bell, KFC, Auntie Anne's, and Potbelly Sandwich Works, to name a few. Please visit http://www.dttusa.com for more information.
About Sarku Japan
Established in 1987, Sarku Japan can be found in over 200 food courts in high-profile malls nationwide, as well as international markets such as South America. Since 2008, Sarku Japan has introduced free-standing restaurants in major metro markets such as New York City, D.C., Virginia, Maryland and New Jersey. For more information on Sarku Japan, please visit http://www.sarkujapan.com.