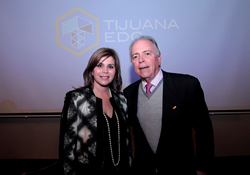 Tijuana, Mexico (PRWEB) January 10, 2017
In December, Tijuana EDC members have appointed David Mayagoitia as new President of the Board effective January 2017 to December 2018.
The Tijuana EDC is a non profit corporation, that for over 26 years has facilitated the landing of over 200 manufacturing companies in Tijuana, Mexico by providing a portfolio of free-of-charge services such as: site selection, contract manufacturing listings, costs analysis and government liaison.
In his acceptance speech, Mr. Mayagoitia highlighted some of the EDC´s former CEO´s accomplishments: "We thank Cristina Hermosillo for going the extra mile leading this organization through the last three years. During this time she achieved the landing of 21 manufacturing companies, including the binational iconic project of Thermo Fisher Scientific. Her successful job has supported the creation of over 5,796 jobs for the city of Tijuana".
Mr. Mayagoitia recently served as VP of innovation during the organization´s last board of directors. One of the milestones during his leadership is the promotion of a prototyping center and fostering industrial innovation through a series of forums in collaboration with the National Export Manufacturing Association (Tijuana chapter) and the Mexican Chamber of Electronics, Telecommunications and IT.
During his extensive career of over 30 years in Real Estate, David Mayagoitia has focused on foreign manufacturing investment in Mexico, he is a founding member and CEO of Mexico's Industrial Park Association (AMPIP) and Tijuana's Economic Development Corporation (Tijuana EDC). He has also held positions in the Board of the SDREDC, the Advisory Board of the San Diego Tijuana ULI, and named Chairman of the CALIBAJA Mega-region for 2013. Nowadays he owns the renowned construction firm IN3 which has designed and engineered over 11 million sq. ft. of industrial space and managed the construction of over 7.5 million sq.ft. of space since 1999.
In addition to Mr. Mayagoitia appointment, the Tijuana EDC has welcomed Adriana Eguia as new Executive Director. She will give continuity to the organization´s guidance and to the projects accomplished by Rigel Navarro until December 2016.
Adriana is the former CEO of CaliBaja Binational Mega Region initiative. She has been involved in innovation and business acceleration since 2007 as Regional Director for Endeavor, a business accelerator with presence in developing countries. She also directed the Economic Development Institute within CETYS University, and she's partner of a consulting firm for family based companies.
She has been an academic for business programs such as International business, Business Strategy, Business Plan development and Advanced English.
New members on the Tijuana EDC board are:
David Mayagoitia, President of the Board. IN3 Group.
Manuel Pasero, VP of the Board. Pasero Abogados.
Fernando Cervantes, Secretary / Leader of the Professional Services committee. Cervantes-Quijano Lawyers.
Fidel Gutierrez, Treasurer / Leader of the Finance committee. G-Global, customs and logistics broker.
Christian Tagliapietra, VP of Innovation. Ivemsa, shelter services.
Javier Zapata, Board Member. Cacheaux, Cavazos & Newton Lawyers.
Jorge Godínez, Board Member. Dart Container.
Daniel Caballero, Board Member. MPA Group, Industrial real estate.
Kurt Honold, Board Member. Tomas Alva Edison Industrial Park.
Fernando Ortíz, Board Member. Barbachano International, Human Capital solutions.
Luis Hernandez, Board Member. Brady Mexico.
Dolores Melo, Board Member. Dynamic Communications.
Jorge Diaz, Board Member. JD Group, customs broker.
Elias Laniado, Board Member. Vesta Baja California, Industrial real estate.
Carlos Larios, substitute Board Member. Baker & McKenzie.
Jose Guillermo Hernandez, Board Member / Leader of Construction Firms committee. Seica International Group, construction services.
Carlos Uribe, Board Member / Leader of Industrial Developers committee. Iamsa Development Group.
Gonzalo Gomez, Controller. Deloitte.
Cristina Hermosillo / VP of Binational Affairs
Ray Varela, Advisory Board Member. Carrier Johnson.
Francisco Sanchez, Advisory Board Member. Procopio, Cory, Hargreaves & Savitch LLP.