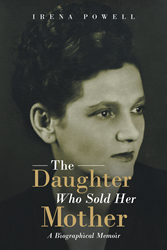 OXFORD, UK (PRWEB) January 09, 2017
Retired literary academic (Sheffield and Oxford Universities), Irena Powell, has released her first nonacademic publication, "The Daughter Who Sold Her Mother – A Biographical Memoir." Powell's gripping story recounts her mother's Polish-Jewish life pre and post-World War II woven from fragments of her memories as told to her over the years.
Powell wrote this book to keep her mother's memory alive so her struggles as a young Jewish woman, fighting to save the life of her newborn daughter in Nazi-occupied Poland, would not be forgotten.
"My mother's story is an unyielding example of how resourcefulness and courage can enable one to survive, but how in the same vein, prejudice and discrimination can destroy one's hopes and dreams," said Powell.
Powell's mother was caught in the turbulent currents of the twentieth century in which Communism, Zionism, Fascism and anti-Semitism all played their part. It was a life deeply scarred by World War II and writing this book allowed Powell to explore the complex legacy of 'the second generation,' being born to parents who were Holocaust survivors.
The mother's story, told through her daughter's eyes, inevitably becomes the daughter's story as well, when the daughter is no longer just a listener but a participant in the events described.
"The Daughter Who Sold Her Mother – A Biographical Memoir"
By Irena Powell
ISBN: hardback 978-1-5049-4435-9 (hardback); 978-1-5049-4436-6 (paperback); 978-1-5049-4434-2 (electronic)
Available at the AuthorHouse Online Bookstore and Amazon
About the author
Irena Powell was born in Lvov (present-day Ukraine) in 1941 to Polish-Jewish parents and survived the war in Nazi-occupied Poland. Educated in the post-war Communist period, she graduated from the University of Warsaw with a double degree in Japanese and English studies. She taught Japanese language and literature at the universities of Oxford and Sheffield and is the author of a monograph, Writers and Society in Modern Japan, published by Macmillan (1983), as well as a number of academic articles. She lives in Oxford with her academic husband and has two grown sons. To learn more about the author please visit her website http://www.irenapowell.com.
Review Copies & Interview Requests:
LAVIDGE – Phoenix
Lauren Dickerson
480-998-2600 x 601
ldickerson(at)lavidge(dot)com