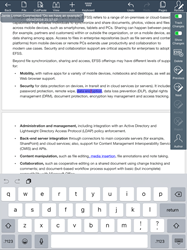 "Track Changes is the number one requested item missing in the field of mobile office productivity apps, and we are proud to be able to fill that need with this major feature addition." - Miles Jones, President of Artifex, maker of SmartOffice
San Rafael, CA (PRWEB) January 23, 2017
Artfiex Software, developer of SmartOffice, the leading mobile Office productivity app, today announced it has released a major feature enhancement – Track Changes for Word documents. The SmartOffice app, which enables people to view, edit, create, share, present and print Microsoft Office documents (Word, Excel and PowerPoint) on their mobile devices, will initially launch this new feature in its Enterprise level products.
"At Artifex, we pride ourselves in listening to our customers and delivering outstanding technologies that meet their needs," said Miles Jones, President of Artifex. "Our customers have consistently told us that Track Changes is the number one requested item missing in the field of mobile office productivity apps, and we are proud to be able to fill that need with this major feature addition."
SmartOffice Track Changes will provide the key functionality a mobile user will need to "mark-up" a Word document and will enable teams to effectively collaborate by exchanging edits and comments on a single shared document. Key features include:

Enable/disable change tracking on your device
Author configuration (add your name/initials to accompany your edits)
Display changes in the edited document
Edit existing changes
Add and view comments
Previous/next change navigation
Reject/accept changes made by others
SmartOffice enables people to view, edit, create, share, present and print Microsoft Office documents (Word, Excel and PowerPoint) on their mobile devices, and works on the leading mobile platforms, smartphones and tablets. With over 350 million downloads, the SmartOffice app's high quality document representation and small file size make it a perfect fit for today's growing mobile workforce.
"The business world is moving to mobile devices at an increasing rate, and our research has told us that Track Changes is a highly valued feature used across many industries and organizations," said Ted Simon, Vice President of Marketing for Artifex. "Anyone seeking to markup documents or share edits, comments and changes on Word documents, such as lawyers, contract administrators or collaborative work teams, will be very happy to have this new feature available for their mobile devices."
SmartOffice with Track Changes is available immediately for Enterprise customers in both SmartOffice branded and SDK customizable versions of the product. Organizations interested in SmartOffice with Track Changes should contact the company at sosales(at)artifex(dot)com. The company will also be releasing a version for individual users via the app stores later this year.
For more information contact:
Ted Simon, Vice President of Marketing
ted(dot)simon(at)artifex(dot)com
415.492.9861
SmartOffice
SmartOffice by Artifex is a leading Mobile Document Productivity Suite that puts the power to view, edit, create, print, share and convert documents to PDF at your fingertips. Covering all major document formats (Word, PowerPoint, Excel, PDF, plain text and major image file formats) on all mobile devices and a variety of operating systems, SmartOffice increases mobile productivity while delivering the best conformance with Microsoft Office document standards in the market today. SmartOffice can be downloaded from major app stores and is also available on a variety of leading Enterprise File Synchronization and Sharing, Mobile Device Management and Enterprise Mobile Management platforms. For more information, please visit our web site at http://www.smartoffice.artifex.com.
Artifex Software
Artifex Software is a trusted partner and provider of core technologies for document handling and management. For over 20 years, we have provided premiere software products to top level global customers. The list of global customers/partners who depend on Artifex technology comprises a who's who in technology products and services, including HP, EMC, Kyocera, Ricoh, Adobe, IBM, Intel, Xerox, Google, Morgan Stanley, Ernst & Young, Dropbox, BlackBerry, Siemens, LG Electronics and many more. Our major product offerings include SmartOffice (mobile document productivity suite for viewing, editing, creating and printing MS Office documents and related files), Ghostscript (PDL Interpreter that is an industry leader in PDF, PostScript, PCL, and XPS rendering and conversion) and MuPDF (lightweight PDF and XPS interpreter that offers all the interactive features for PDF). Artifex is headquartered in San Rafael, CA, with offices in North America, Europe and Asia. For more information, please visit our website at http://www.artifex.com.