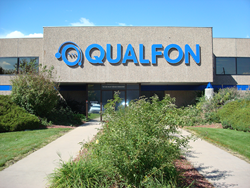 This is a casual work environment and a casual job fair event to help you get to know Qualfon.
Fort Collins, CO (PRWEB) January 10, 2017
Qualfon, a mission-driven business process outsourcing (BPO) company and global provider of contact center services, has 150 employment opportunities in Fort Collins, Colorado that it aims to fill very quickly. The contact center job opportunities include customer service and inbound sales positions serving some of the largest consumer brands across multiple industries. On-the-spot interviews will be held on Tuesday, January 17th, 9 a.m. to 7 p.m. at the Cambria Hotel & Suites located at 2921 E. Harmony Road, Fort Collins, CO 80528.
Walk-in applications are welcomed and will be interviewed on a first come, first served basis. Scheduled interview appointments are also available after applying online. Premium appointments with scheduled interview times will be provided to those who apply online in advance at http://www.QualfonJobs.com. Qualfon will contact applicants to schedule an appointment and will review their applications before the interview. Recommended: Please bring to the job fair two forms of identification and a resume (paper or electronic).

Fun and casual work environment
Inbound calls only—Qualfon employees don't call customers, customers call Qualfon employees!
Great pay, incentives, and benefits
Work with some of the largest consumer brands in telecommunications, online retail, identity theft protection, and entertainment
Join Qualfon's fun clubs, volunteer opportunities and more
Qualfon's mission is: "Be the best BPO. Make people's lives Better."
"This is a casual work environment and a casual job fair event to help people in the community get to know Qualfon. So, we encourage anyone who thinks they might be interested in working here to come in, complete an application and speak to our hiring team to see if Qualfon is the right fit," said Janet Dickinson, Talent Acquisition Manager, Qualfon Fort Collins.
Qualfon Cares. That's it. Qualfon is entering its next phase of growth and seeking people who are interested in joining a company that cares. Qualfon's mission to be the best BPO and make peoples' lives better means it invests in every employee, family, and community. Qualfon cares for its employees who take care of clients and their customers. Come join the Qualfon family.
Qualfon cares for our employees who care for clients.

Have fun with new friends and teammates
Join a family in an enthusiastic work environment
Enjoy personal growth
Discover a whole new world of opportunity
Qualfon has a world of opportunity with locations in the USA, Mexico, Guyana, and the Philippines.
Learn More on Facebook. See what's happening at Qualfon Fort Collins on our Facebook Page
About Qualfon
Qualfon is a mission-driven BPO company and a global provider of contact center services and
back-office processing. With experienced BPO leadership and a strong track record of business growth dating back to our founding in 1995, Qualfon helps companies reduce costs and deliver superior customer experiences. Today, we have approximately 12,000 employees serving international brands across many industries, and our intelligent outsourcing locations span the United States, the Philippines, Guyana S.A., and Mexico. Qualfon's mission to "Be the Best BPO, Make People's Lives Better" means we invest in our people and, in return, they take better care of you and your customers. Qualfon's employee retention regularly exceeds the industry average, which creates a people-driven value chain: Our employees stay longer, providing you a higher quality service at a lower price. http://www.Qualfon.com