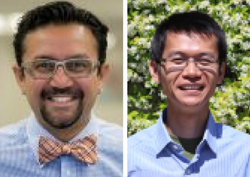 Yorba Linda, Ca (PRWEB) January 11, 2017
While the most acute effects of increasing antibiotic resistance in pathogens are observed in clinical settings, it is becoming increasingly clear that the evolution and transmission dynamics of resistance gene dissemination is an ecological problem. An over-reliance on culture-based methods, the standard in the study of clinical resistance, has vastly underestimated these reservoirs of resistance genes.
To address this issue, the team recently developed high-throughput metagenomic functional selections, aided by Next-Generation sequencing, to characterize resistomes encoded by the microbiota of healthy human adults, children, and diverse soils. By combining these analyses with 16S amplicon sequencing and deep shotgun sequencing, the team was able to model the impact of various anthropogenic perturbations on the transmission and evolutionary dynamics of microbial communities and their resistomes across time and habitats.
Due to the rapid growth of Microbiomics and Metagenomics Studies, there is a need for standard reference materials for the development, evaluation, calibration, and validation of complex microbiomics workflows. To address these fundamental challenges, the scientists at Zymo Research have created reference materials to ensure the most accurate and unbiased workflows from sample collection to analyses.
Attendees will gain a better understanding about networks of exchanging antibiotics resistance across human commensal, environmental, and pathogenic bacteria. They will also discover how these new reference materials improve the quality of data generated from microbiomic studies.
Attendees will have the privilege of hearing from two presenters during this webinar; Dr. Gautam Dantas, associate professor at Washington University School of Medicine and Dr. Shuiquan Tang, scientist at Zymo Research Corp.
Dantas received his Ph.D. in biochemistry from the University of Washington and post-doctoral training in microbial genomics from Harvard Medical School. His current research focuses on understanding the evolution and exchange of antibiotic resistance amongst diverse microbial communities, on engineering improved probiotics to treat gastrointestinal disorders, and on engineering microbial catalysts to produce value chemicals such as biofuels.
Tang received his Ph.D. in the Department of Chemical Engineering and Applied Chemistry from the University of Toronto. He joined Zymo Research in 2014, and has since been instrumental in the research and development of Zymo's microbiomics and metagenomics programs. His past experiences include work in the fields of environmental microbiology and biological process engineering, with an emphasis on bioinformatics, metagenomics and anaerobic cultivation.
LabRoots will host the webinar on January 31, 2017, commencing at 9 a.m. PT, 12 p.m. ET. To read more on this event, learn about P.A.C.E. and Florida Continuing Education credits, or to register online, click here.
About Zymo Research Corp.
Zymo Research Corp., also known as "The Epigenetics Company", is a privately held company based in Irvine, California, USA. Since its inception in 1994 it has been serving the academic and biopharmaceutical scientific communities by providing DNA and RNA purification products. Zymo Research was an early adopter in the field of epigenetics and offers a line of products used in DNA methylation detection and quantitation. In addition to the epigenetic and nucleic acid purification products, Zymo also provides genetic, epigenetic and transcriptome analysis services. Follow Zymo Research Corporation on Facebook, LinkedIn, Twitter, and Instagram.
All trademarks are the property of their respective owners. Zymo Research Corp., the stylized logo, and the tagline "The Beauty of Science is to Make Things Simple" are trademarks of Zymo Research Corp. and are registered with the USPTO.
About LabRoots
LabRoots is the leading scientific social networking website and producer of educational virtual events and webinars. Contributing to the advancement of science through content sharing capabilities, LabRoots is a powerful advocate in amplifying global networks and communities. Founded in 2008, LabRoots emphasizes digital innovation in scientific collaboration and learning, and is a primary source for current scientific news, webinars, virtual conferences, and more. LabRoots has grown into the world's largest series of virtual events within the Life Sciences and Clinical Diagnostics community.