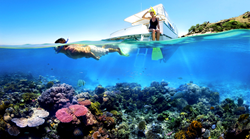 Welcoming guests is part of our DNA and is something all Belizeans are proud of
San Ignacio, Belize (PRWEB) January 10, 2017
The New York Times' recent recommendation of Belize as a 2017 vacation destination prompted The Lodge at Chaa Creek, one of the country's oldest eco-resorts, to respond with recommendations on how to get the most out of a Belize vacation.
Known as Belize's "Destination within a Destination" due to the wide range of accommodations, amenities and activities to be found within a private 400-acre nature reserve, Chaa Creek has dedicated vacation planning teams in areas such as "Family," "Adventure" and "Romance" who work with guests to help them optimise their holidays, according to Denise Duran, who heads the "Romantic Adventures" team.
"For such a small country, Belize has a lot of variety and offers a surprising amount of things to do. With a beautiful Caribbean coastline and scores of islands and cayes sheltered by the world's second largest barrier reef, vast tracts of pristine rainforests filled with exotic wildlife and ancient Maya temples and archaeological sites, as well as savannahs, pasture lands and the unique Mountain Pine Ridge, visitors are sometimes overwhelmed by the sheer number of activities available.
"We're here to help people with advice about where to go, what to do, and how to make the most of their time here," Ms. Duran said.
The January 4, 2016 New York Times article, "52 Places to Go in 2017" highlighted Placencia, Belize while noting that "Eco-Tourism expands in Southern Belize."
"For us, it's more to the point that ecotourism has expanded throughout all of Belize, and that includes our partner resorts in Placencia, along the coast, cayes and reef and in neighbouring Guatemala," Ms. Duran said.
Chaa Creek offers "Rainforest to Reef" all-inclusive Belize vacation packages that allow visitors to seamlessly combine an inland rainforest vacation with a Caribbean beach holiday for one set price, with all accommodation, meals, activities and transfers included for what Ms. Duran calls "the most carefree and affordable way to truly experience the best of Belize."
"Even though Belize is small, English speaking and famous for being warm and friendly, local knowledge is still invaluable for planning the perfect Belize vacation. Chaa Creek has been introducing visitors to every part of Belize for over thirty-five years now, and we've built a nationwide network of trusted friends and colleagues who offer excellent quality and service in addition to sharing our commitment towards sustainable tourism and responsible travel.
"This network, combined with our own infrastructure and experience allow us to offer all-inclusive Belize vacation packages that are surprisingly affordable," Ms. Duran explained.
One example, she said, is the "Jungle and Sea" weeklong all-inclusive Belize vacation package offered in conjunction with Roberts Grove in Placencia. Guests can choose to spend three or four nights at either resort with all accommodations, meals, activities, transfers, local flights and service charges included.
"We've been working with Robert's Grove for years, and they offer a variety of Caribbean seaside activities that compliment Chaa Creek's range of rainforest adventures. Our guests can enjoy horseback riding along jungle trails, canoeing the Macal River, exploring Maya temples and nature hikes, and then swim, snorkel, kayak and beachcomb around Placencia at Robert's Grove, to name just a few activities.
"With an all-inclusive Jungle to Beach vacation package, our guests get to experience the best of Belize's seaside and inland worlds in one seamless, affordable holiday. Rather than plan and pay for each and every thing, from the moment we pick guests up at Belize's international airport until they are dropped back off, everything is taken care of and they can just relax and enjoy a carefree holiday without any credit card surprises when they return home.
"Visitors can also rest assured that their visit actually contributes to Belize's environment and communities, with 10% of all room revenue at Chaa Creek going directly into environmental and social programs," Ms. Duran said.
Ms. Duran said a comprehensive list of all-inclusive Belize vacation packages, tours, expeditions and on-site activities can be found on Chaa Creek's website, and she encourages travellers to contact their travel agents or Chaa Creek directly to learn more.
"Belize is definitely becoming more popular as a travel destination, but it's still very laidback, friendly and welcoming, and our vacation planning teams are here to help visitors have a Belize vacation they'll never forget," she said.
"Welcoming guests is part of our DNA and is something all Belizeans are proud of," Ms. Duran added.
The Lodge at Chaa Creek is a multi award winning eco resort set within a 400-acre private nature reserve along the banks of the Macal River in Belize. It is currently a finalist for National Geographic's 2017 World Legacy Awards.