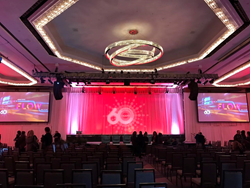 APAP NYC 2017 upcoming highlights from Jan 7th to Jan 10th, 2017
New York City (PRWEB) January 07, 2017
Yesterday is the first day of 60th Annual Global Association of Performing Arts Presenters' Conference. The overall conference was simply outstanding. After the grand and successful first day, APAP NYC 2017 is ready to host plenty of magnificent shows performed by the artists from different parts of the world. Some of the highlights of engaging upcoming events are The Creative Producer Initiative, APAP|NYC "5 Minutes to SHINE!" competition, Building Bridges initiative, and one of the most exciting showcases i.e. "The Three-Body Problem"- 3D Sci-Fi Drama.
Learn more about APAP at http://www.apapnyc.apap365.org/.
Scenario was electrifying on the first day of APAP NYC 2017. Colors of creativity and spectacular talent performances are about to spread in coming days. Sheer perfection is personified at APAP NYC. The opening plenary session MC (Makers of Culture) = FLOW: What is Our Role in Affecting Social Change and Resilience was phenomenal as it discussed about the role of artists, agent/managers, presenters and other co-producersand how they can contribute to social justice and social change. The upcoming plenary session will be quite engaging and informative for the audience.
Forthcoming plenary topics are The Creative Mind: Finding the Flow (Saturday, January 7, Noon-1:30 p.m.) that will showcase what nurtures innovation and creativity, The Creative Team: Finding the Flow Together (Sunday, January 8, 11 a.m.-12:30 p.m.) will elaborate about the key factors that are shifting the making, production, and presentation of work to more conveniently connect the modern spectators. The closing plenary session will be Incomparable playwright, actor, singer-songwriter and performance artist Taylor Mac on Tuesday (January 10, 10-11 a.m.).
Program themed sessions will also be the highlight. To name some of them are Building Arts Audiences initiative, Building Bridges initiative, APAP's Cultural Exchange Laboratory, APAP|NYC "5 Minutes to SHINE!" competition etc.
One of the biggest attractions at APAP NYC 2017 is "The Three-Body Problem"- 3D Sci-Fi Drama Showcase by Shanghai Lotus Lee Culture & Communications CO., Ltd. Visitors will be able to have a glance of this revolutionary hi-tech drama loaded with contemporary stage technologies. The production team will also be there to tell the spectators the story of how they create this fantastic work and show the related products used in the drama for this eye treated science fiction drama, which is based on a famous Chinese novel 'The Three Body Problem written by award winning writer Liu Cixin. It will be a first step of Lotus Lee Drama Studio of their official launching in NYC.
For more information about Lotus Lee Drama Studio, go to http://www.lotus-lee.com.