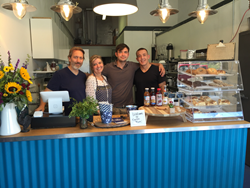 This move will allow us to better serve our loyal patrons with extended hours and more seating to gather and enjoy our delicious menu with those they love.
Payson, AZ (PRWEB) January 09, 2017
Mogollon Moose Bakery will move to a new location on West Main Street on Monday, January 9th, 2017. The company opened in August of last year and has already seen tremendous growth. The move will allow Mogollon Moose a much larger dining area to not only serve its customers better, but also give plenty of room for groups to come and enjoy the rustic farmhouse atmosphere while nourishing their bodies with healthy and delicious options.
Mogollon Moose Bakery was founded by Kristi and Brian Church with the goal of bringing healthier meal options to their home town of Payson. Together with their sons Brandon and Beau Bilkey as well as the rest of The Moose team, owner Kristi Church feels this move will allow them to "Better serve our loyal patrons with extended hours and more seating to gather and enjoy our delicious menu with those they love."
The new location will open on Monday, January 9th, 2017 at 407 West Main Street Payson, AZ 85541. Currently, serving breakfast and lunch - the bakery closes at 2pm and they found they were turning away potential patrons that would stop in to have lunch while they were cleaning up. The move to the new location will allow them to extend their operational hours until 4pm each day for those that want a later lunch or early dinner pick up.
To celebrate their reopening on Historic Main Street, the bakery will be offering cups of coffee all day for .47 cents and other special promotions throughout the day along with some giveaways.
To learn more about Mogollon Moose Bakery or to contact the owners please visit their website at http://www.mogollonmoose.com.
With this larger space, Mogollon Moose Bakery will also support the local art community by featuring a local artist within the bakery each month. Starting in February, they hope to re-invigorate First Friday's on Main Street by staying open until 8pm and premiering a special First Friday Moose Menu serving bruschetta and charcuterie boards. They hope to motivate people to come out, enjoy and educate themselves on local artists of all different types of mediums while promoting more foot traffic on Historic Main Street.
About Mogollon Moose Bakery: Mogollon Moose is Payson Arizona's ONLY stand-alone, hometown, walk-in bakery serving breakfast and lunch until 4pm. Not your average soup, sandwich, cookie cutter bakery the Moose prides itself on using and serving only the highest quality ingredients and providing warm service with intention in all of their products feeding body and soul. With a full selection of home made fresh daily soups, sandwiches, breads, cookies, salads and more the Moose is the right choice to fit your life each and every day.