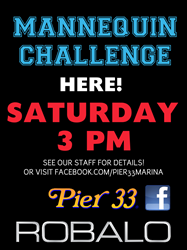 Boat shows are always a fun family event and we wanted to do something special that would add to the fun
Chicago, IL (PRWEB) January 09, 2017
Pier 33 Marina of St. Joseph, Michigan will be sponsoring a fun social media event for boat show attendees – holding a Mannequin Challenge Saturday January 14 at 3 PM during the Progressive Insurance Chicago Boat, RV and Strictly sail Show.
The Mannequin Challenge will take place at Pier 33's Robalo Boats display, Booth P1530, at the boat show, which will be held at McCormick Place. Boat show attendees will be invited to participate and are asked to register at the Pier 33 display no later than 2:45 on Saturday afternoon.
"Boat shows are always a fun family event and we wanted to do something special that would add to the fun" says Pier 33 General Manager Tighe Curran. "The Mannequin Challenge is a great way to celebrate the show and the coming of a new boating season. We'll be posting the video to Facebook, YouTube and other media."
Some props will be provided and participants are encouraged to wear their favorite boating gear, hat, glasses or other summer attire. Visitors will be able to stage themselves aboard and nearby the Robalo models in Pier 33's display, holding an action pose in mannequin-style while video captures the event starting at 3 PM. The Pier 33 display will be cordoned-off briefly, re-opening at 3:15.
The 2016 Progressive Insurance Chicago Boat, RV & Strictly Sail Show opens Thursday January 11 and runs through Sunday January 15. Pier 33 has posted essential show information on-line at http://www.pier33.com.
Pier 33 is a dealer for new boats from Robalo and Chaparral. Pier 33 is a full-service marina, with used boat sales, yacht brokerage, 170 docks, complete boat storage and boat repair services and boater conveniences such as Launch on Command and Hook 'n Go options available in-season. Pier 33 serves boaters from a wide region, with boating clients based in Michigan, Indiana, Illinois, Ohio and Wisconsin.